Did you hear News Corp. may buy Monster? How about how Manpower is pitching webinars to keep HR professionals out of jail? And, if that's not enough to get you reading this, then try the cliche-riddled video entitled S*** Recruiters Say.
To answer our first question: We hadn't heard the news about News Corp. and Monster since 2005 or maybe 2006, when we hacked old Rupert's voicemail. Back then, his password was $$$$, which got us a few messages from Andy McKelvey explaining how you do this thing with the calendar and everybody gets rich off the options.
Now cometh The New York Times to report that in the breakup of News Corp., it might assign things it doesn't own to a new publishing division. We are not making that up. The Times said:
Other units like classified advertising companies and other digital assets like Monster.com, which the company does not own but has considered for acquisition, would be part of the publishing division.
Monster's PR firm handling the inquiries into its strategic alternatives research told us the company doesn't comment about that. Which makes us wonder why it needs a PR firm to say it won't say anything.
Jail or Webinar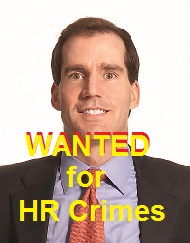 Manpower sent us an email with a webinar pitch that's hard to resist: "Want to lower your legal risk, control your litigation expenses, bulletproof your investigations, conquer the social media universe, sleep better at night, and quite possibly stay out of jail?"
If you answered "No" to any of those, email us. We definitely want to interview you. If you are already in jail, note that we do not accept collect calls.
For the rest of you, Manpower's funnyman and chief legal officer Mark Toth (how often will you see those words in the same sentence?) hosts an employment law talk show Wednesday, July 25, 11-noon central time. Register here.
Note to Manpower: How many HR professionals are doing time for asking about age, sex, religion, disability, ethnicity — help us out here, what are we forgetting?

What I Heard the Recruiter Say
Anyone who's worked as an external recruiter knows it's a different world with a language that's recognizable, but, um, different.
"So," you might hear an outside recruiter ask a prospect, "What did you W-2 last year."
How about, "What's the bare minimum you have to live off of?"
These are just a sample of two minutes worth of cliches compiled into one of the funniest recruiting videos we've seen. Credit Betts Recruiting, a contingent and retained San Francisco firm, for coming up with "S*** Recruiters Say"