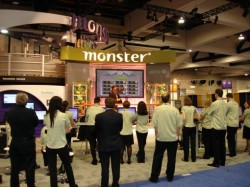 These are exciting times for the online recruiting industry: acquisitions (Jobs2Web, Bullhorn), IPOs (LinkedIn), and flame-outs (BranchOut). The majority of job boards I talk with are experiencing very strong business (and revenues), despite a frustratingly slow recovery. But there's been a fly in the ointment (well, more than one, but I'll leave those for another time).
Monster is having problems. A slumping stock price. Confusion in the boardroom. A publicly stated desire to sell itself. All this despite the fact that the company has an impressive client list, continues to launch new products and services (BeKnown, 6Sense, SeeMore), and employs many bright and capable people.
So the other day, I began wondering: what might happen if Monster vanished? No sale, no resurgence in health — just an ever-increasing death spiral that left the company bankrupt and unable to compete. Yes, I realize this is extremely unlikely. b=But it's interesting to contemplate, nonetheless.
First, some numbers.
$246 million in revenue for Q1 2012 (down $18M from the same quarter in 2011)
$120 million in revenue for Q1 2012 in North America (down about $4M from same quarter in 2011)
Expect to see bookings go up in Q2 year over year
400 employees laid off early this year
Spending about 23.5% on marketing and promotion
Not numbers to shake the world — but the company has been around for a while, and it gets progressively harder to grow the bigger you become.
However … what might happen if Monster went the way of Pets.com or eToys? Let us consider:
A 

$1 billion 'hole of opportunity'

 would open in the job board world. I suspect that 

Indeed

, LinkedIn, and CareerBuilder would battle hard to fill it.

Thousands of clients would have portions of their recruiting budget "freed up." Many of them would use the opportunity to experiment with other sites and techniques. (And some would bank the savings, only to discover later that they are a few candidates short of their goal).

The industry would be flooded with talented but unemployed former Monster employees. Some would no doubt start their own businesses. This could result in even more growth in the industry.

There would be acquisitions and confusion in the non-U.S. markets where Monster is strongest as indigenous companies (and new players) fight to come out on top.

There would be empty real estate in Maynard, Massachusetts.

There would be a significant uptick in "job-boards-are-dying" opinion pieces.

Key technology (such as 6Sense) would be acquired by competitors or perhaps even a job board software company.

Many stockholders would be very unhappy. 

It would become much more difficult for any job board company to go public or attract venture funding. (Correspondingly, this might signal the death knell of the term "job board," at least as far as those seeking funding are concerned).
I don't think it will happen. What do you think? What other changes did I miss?