Note: This post has been updated.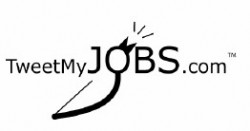 TweetMyJobs, the first of the commercial Twitter-based job broadcast services, has been acquired by CareerArc Group. That's the same Burbank, California company that owns Internships.com, which sponsored the Charlie Sheen intern contest.
The sale occurred in February. The sales price was not disclosed.
Gary Zukowski, who ran an IT staffing and consulting firm in Charlotte, North Carolina, founded TweetMyJobs in 2009. For a fee, the service distributes job listings to highly targeted groups of job seekers.
I haven't yet reached Zukowski, but he's now listed as a senior vice president of CareerArc Group. His LinkedIn profile says he assumed the job in February. He never mentioned the deal when we spoke a few weeks ago in connection with an update on the occasion of TweetMyJobs' second birthday.
He did say that the site had a quarter of a million users and sends between 50,000 and 75,000 tweets a day. He predicted it would grow to a million users by the end of the year, an optimistic number more achievable now with the backing of the entrepreneur-driven CareerArc Group.
I've since spoken with Robin Richards, CEO and co-founder of CareerArc, who said the acquisition furthers the goal of building "a complete recruiting distribution network."
The way Richards and his team see it, jobs in the 21st century should be finding people, rather than the other way around. That's not a new idea. Monster, Jobvite, StartWire, JobFox, and a slew of others are doing that now in one fashion or another. But CareerArc intends to integrate TweetMyJobs's 10,000+ Twitter channels with Facebook, leveraging the social media site to deliver relevant, targeted jobs and the Facebook friends who can connect them to hiring managers.
CareerArc Group itself was founded by former executives with Vivendi Universal Net USA and Blackboard Connect, a provider of hosted, time-sensitive mass notification services. Richards, and co-founder and COO Paul Ouyang, have worked together for years at startups and other ventures, including at Vivendi and Blackboard.
CareerArc made a big splash when it sponsored a search last month for an intern for Charlie Sheen. CareerArc Group owns Internships.com, which posted the job and paid Sheen to tweet about it.
TweetMyJobs would seem to be a good catch for CareerArc, which describes itself as "the next generation of social recruiting solutions for job seekers, college students, employers and higher education institutions." Its logo includes the tagline, "The social exceleration network."