Finding a programmer is easy. Resumes are everywhere: Dice, Craigslist, CareerBuilder, personal websites. You name it.
But how do you sort through the stack to create your short list? (I'm deliberately ignoring the issues of availability, interest, and candidate affordability.)
Like most recruiters and software ranking systems, you look at skills, years of experience, types of projects they worked on, career progress, and the like.
What if you could also factor in the opinion of their peers? Suppose you could see how their peers rated your prospect's solutions to problems that befuddled other programmers?
That's the idea behind the revamped careers site on StackOverflow. It's a popular Q&A coding site, where programmers can post their programming challenges and see what solutions others offer. Responses — and the questions, too — are rated by the programming community, and result in a reputation score.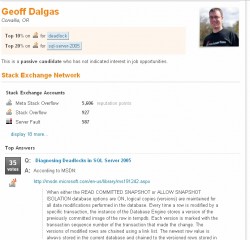 It's akin to Facebook "likes," though the standards are higher. Much higher, as anyone who has ever dealt with programmers knows.
StackOverflow leverages these scores, presenting them on candidate profile pages. It also displays their top answers, as decided by the community votes.
TechCrunch, which first wrote about the overhauled StackOverflow careers site the other day, called the inclusion of reputation scores "huge, imagine if Quora highlighted the hours people put into answers to help find them jobs."
There's certainly a lot to like in having peer reviews. But the system also has some cautions. Newer members of the community might be every bit as good as someone with a high reputation score, but they simply haven't been on long enough to build one. Or, some developers might choose to post only occasionally.
High reputation scores require not only good questions and even better answers, but frequency.
Nonetheless, it's a useful supplement to the standard resume/project portfolio. Plus, the careers site conveniently also notes whether the candidate is active or passive. Searching is fairly traditional: skills, location, type of position (i.e. fulltime, contract, etc.), geography.
You can test it out for free. Or source candidates for a week for $500 (prices range up to $5,000 for a year).