Temp workers accounted for just under a third of the new jobs created in June, providing one of the few bright spots to an otherwise lackluster employment report.
The Labor Department's Bureau of Labor Statistics said temp and contract hires added 25,200 jobs to the U.S. economy in June, representing 31.5% of the 80,000 new jobs created during the month. It's the third consecutive month in which staffing services have added workers. Since the beginning of the year, the temp workforce has grown by 137,300, accounting for 15.2% of the total new jobs.
There are now 2.534 million contract and temp workers in the U.S., a number just a few months shy of exceeding the all time high of 2.657 million reached in August 2006.
Temp jobs, which dropped like a rock during the early part of the recession, first began to turnaround in the fall of 2009, growing strongly in 2010 and, except for several slow months in the spring and summer last year, have continued their upward trajectory. It's one of the few bright spots in the government's monthly hiring report.
June capped the worst quarter in two years for hiring, and was way off the average of 226,000 monthly new jobs in the first quarter. From April through June the U.S. economy averaged 75,000 new jobs a month, a mere 3,000 ahead of 2010 and far behind last year's average of 130,000. (For more details on the numbers, see ERE.net.)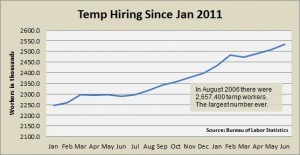 Joanie Ruge, SVP & Chief Employment Analyst, Randstad Holding US, says she expects the next few months to be "more of the same." By the 4th quarter, though, she expects permanent, full-time hiring to pick up and accelerate in 2013.
In conversations with Randstad clients, they talk about "pumping up their hiring" toward the end of the year, and next year. They are "more optimistic about 2013,"she said, though "they haven't pulled the trigger yet."
Uncertainty over the European debt crisis, the presidential election, consumer demand in the U.S. are all among the worries keeping companies from more aggressive hiring. However, those same factors are pushing employers to rely more on temp workers.
"It's certainly an interesting trend," says Ruge, whose company is one of the largest staffing firms in the world. It's a paradigm shift," she adds, echoing what so many analysts have been saying. Instead of hiring permanent, full-time workers when business grows, only to carry them or lay them off during lean times, employers are adding temps as a permanent part of their workforce mix.
Quick to note that "no one has a crystal ball," Ruge suggests that recruiters concentrate on the professional sectors — and manufacturing niches — which is where jobs growth has been strongest over the months.
"I would tell them to really seize the day," she says. "Build up a good network of candidates who want to work on a contract basis… Make a name for themselves."