In 2015, I received an intriguing invitation from IBM to join a think tank called the IBM Futurists. This group consisted of leaders from diverse organizations and social media influencers across industries, all gathered with the ambitious goal of "hacking the future of work."
Eager to participate, I headed to New York, unaware that I was about to embark on a fascinating journey of discovery. Upon arrival at IBM's Watson building in Manhattan's East Village, I could already sense that something exceptional was about to unfold. Our group was ushered into the design thinking lab, where we were introduced to an innovative exercise known as empathy mapping. 
Splitting into teams, we were instructed to create a persona representing a potential customer and draw four quadrants on a whiteboard. What followed was an eye-opening experience in which we delved deep into the thoughts, feelings, and motivations of these imagined personas, ultimately gaining invaluable insights into the customer's perspective. 
This powerful exercise, set against the backdrop of IBM's cutting-edge facilities, not only sparked my creativity but also underscored the importance of empathy and understanding in the quest to shape the future of work.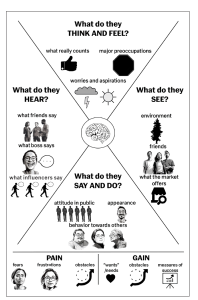 Imagine the potential impact if you could truly understand the wants, needs, and motivations of the talent you're trying to attract to your organization. This is a concept that marketers have long embraced, but it's one that has been largely overlooked in the realm of employer branding — until now. The empathy mapping exercise I first experienced at IBM's think tank opened my eyes to the possibilities of applying this technique to employment marketing. 
And so I set out to create my own version of an empathy map specifically designed for understanding potential employees and refining our approach to talent attraction. Our recruiting team dove headfirst into this new exercise, using colored sticky notes and a whiteboard to map out the interests, influences, and needs of our target workforce. This hands-on approach allowed us to glean invaluable insights and tailor our messaging to resonate with the people we wanted to attract.
To try this innovative method with your own recruiting team, project the empathy map onto a whiteboard (or draw the quadrants) and invite your team members to use sticky notes to fill in each quadrant with their insights. The process is as enlightening as it is engaging.
The success of this empathy mapping technique has led me to share my story and methodology at conferences around the globe. I am grateful to the IBM Smarter Workforce Influencer program, PureMatter's Courtney Smith Kramer and Bryan Kramer, and design thinking coach Hendre Coetzee for the inspiration and guidance that made this possible. 
Embrace empathy mapping as a tool for understanding your potential workforce and refining your talent-attraction strategy. The insights you gain will not only improve your employer brand but also help you create a more authentic connection with the people you're trying to reach.
Adapted from Hiring Humans: Attract, Convert, and Retain Top Talent in the Age of Automation by Craig Fisher (TalentNet). © 2023