Employee referrals waned again in 2013 as a source of hire, as talent acquisition leaders increasingly leaned on other recruiting methods to fill their external hires.
The just released CareerXroads source of hire survey — its 13th — found  the 50 participating employers, some with more than 200,000 workers, relied more heavily on direct sourcing and help from third party recruiters in 2013 than at any time in the previous decade.
They also accelerated their temp conversions, which, at 4.4 percent of the full-time hires, was nearly three times the rate in 2012.
In fact, except for print, every sourcing method tracked by the recruiting  consultancy CareerXroads showed an increase in hiring activity.
This year's report has little commentary — it's coming, says co-author Gerry Crispin — so there's no explanation for the shift in source of hire.
Referral Programs: Not Very Social
But Crispin speculated there may be more than one reason for the decline in employee referrals over the last two years. Some referrals may simply be classified as part of a social media effort.
A more substantive reason, he said, is that many referral programs have remained largely static over the years as recruiting groups have put more effort into other areas, specifically social recruiting and direct sourcing.
"I think what happened," Crispin says, is that "formal employee referral programs where the employees are getting a bonus or an attaboy are seeing less value where they haven't been enhanced with that social component."
In other words, he says, employee referral programs have become like familiar wallpaper, there but not much noticed. Where social networks are two-way conversations, employee referral programs are more one-way. "HR (sends an email) asking employees if they know anyone (for a specific job)," Crispin explains. "That's not a conversation."
Nevertheless, what the source of hire report does show is that the participating companies are making more demands on their recruiting staffs. You can see that from the increases in hires due specifically to recruiter effort.
The direct sourcing category for instance, which went from 9.1 percent of the external hires in 2011 to 6.8 percent in 2012, jumped to 12.1 percent last year.
College hires, which usually means on campus recruiter visits, was up to 7.5 percent. And even job fairs those 'show the flag' events nudged up slightly.
Companies in the survey are also turning to outside agencies more than at any time since 2003 when CareerXroads began asking about third party placements. That year, employers attributed 1.2 percent of their external hires to agencies. In 2012, employers said 3.1 percent of their hires came from agency referrals. Last year that percentage nearly doubled to 5.9 percent.
Shrinking Pool of College Educated
The big jump in recruiter effort and the reliance on search firms, independents and RPOs may be at least somewhat explained by the shrinking pool of educated, skilled workers. In January 2012, the unemployment rate for workers over 24 with a college degree was 4.3 percent, a rate identical to January of the year before. By January of 2013, the unemployment rate for this group fell to 3.8 percent. Last month, the unemployment rate for the college educated was 3.3 percent.
One other factor may be helping up the number of jobs being filled by internal and external recruiters. A higher percentage — 58.1 percent in 2013 vs. 54 percent in 2012 — of the jobs at the companies in the CareerXroads study were filled by new hires rather than from within.
In addition to the source of hire data, CareerXroads found that about one in six workers were contingent – temp or contract. Last year, this pool of workers was tapped more heavily to fill full time openings than at any time since the question was first asked nine years ago. The survey found 4.4 percent of the hires were temp-to-perm conversions, a rate nearly three times that of 2012.
In addition, more than half the employers in the survey use an RPO for at least some of their recruiting. The report notes that, "RPO is rebounding in large firms."
LinkedIn Job Postings
An especially interesting section of the report about how recruiters are using LinkedIn turned up the finding that more hires are being made by posting jobs to LinkedIn than by recruiters proactively searching the profiles. What this means is that LinkedIn is increasingly resembling a job board, which is where, for the first time, CareerXroads categorized it.
According to the survey, LinkedIn accounted for about 3.1 percent of all external hires. The accompanying chart tells the story.
As a job board, LinkedIn ranked second to Indeed as a source of hire, accounting for 20.1 percent of all hires coming from job boards. Indeed was first with 31.2 percent of the job board sourced hires, or 4.8 percent of all external hires.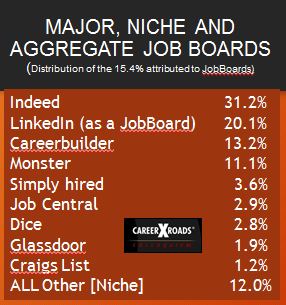 Overall, job board postings and resume (or profile) searching, yielded 15.4 percent of all external hires.
For the past two reports, LinkedIn was included in the Social Media category. This year, the report scotched it, explaining, "We purposely avoided Social and Mobile as sources since they are foundational and 'influence' every category."
Social media wasn't entirely ignored. The survey asked the participants, "How much influence did social media have on your 2013 hires?" It turns out it didn't play much of a role for hourly or entry-level professionals; its influence was greatest for experienced professionals and the "Management Executive" hires.
Mobile wasn't much of a factor for any category of hire.