I recently highlighted some social media recruiting tools that help you reach and engage your ideal candidates. But how do you measure that "reach" and "engagement"? Which metrics mean success in terms of finding high-quality hires and justifying your spend? This week, I help you find the ROI of social recruiting.
Find Metrics That Matter
It's easy to talk about social recruiting in "soft" terms like "employer brand awareness" and "share of voice." These are important, but hard to measure. Then there's the possibility that job-seekers are engaging with your content — following your careers Twitter, for instance — but not actually applying or sharing your job listings with their friends. Some recruiters say, and I agree, that they have to be on a several social channels simply because their competitors are already there. The most important rule of thumb is to choose the metrics that matter to you.
There are hard numbers you can track that measure your social recruiting success:
Cost per hire (calculated to be about $3,000 for smaller firms and $4,000 for larger firms)
Referral rate
Number of applications (with specific breakdowns: number of applications that come from your top competitors or for specific subsets of your open-to-hire)
Quality of hire
Time to hire (SHRM gives an average of 29 days for smaller firms and 43 for larger firms)
Turnover rate
In general, social recruiting cuts down on cost per hire, since a lot of social channels cost nothing to create and little to manage, and time to hire, since you're listing jobs in more places and getting seen by more job-seekers. We all know that referrals lead to the best hires, and social sharing leads to referrals. More and better candidates mean higher-quality hires that stay longer, decreasing the turnover rate. So all in all, seems like a good deal.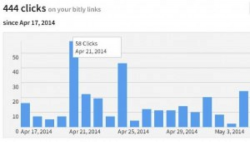 Discover Who's Clicking on What
Custom link shorteners offer a free and simple way to track where applications are coming from. I like Bitly, which allows you to customize any link (the characters after "http://bit.ly/") and create a specific, internal name for the destination. You can thus create a different link for different calls to action. So if you look at Bitly's statistics page and find that, for example, bit.ly/recruitFB has twice as many clicks as bit.ly/recruitTW, you'll know that job-seekers are more responsive to your Facebook posts than your tweets. (You can do this with Google's URL Builder, too.) This lets you test and tweak links in real time, and show the C-suite what channels are definitively driving track to your careers site.
Drill Down to the Details
Another great tool — also free — is the Social Recruitment Monitor.  It measures the engagement, reach, and success of brands' social media recruiting efforts. Along with tracking comments, retweets, video views, and the like, the SRM also includes two proprietary scores:. Engagement Ratio, measures the amount of posts, amount of interaction, and amount of fans/followers. Community Interaction measures fan/follower interaction with the employer and with each other. These values, along with popularity and activity, combine for an SRM Index score. All these rankings are updated weekly.
The results can be eye-opening. This past week, for example,  Kimberly-Clark's careers page on Facebook had the most posts of any employer this week — 29. But that generated only nine likes, one share, and zero comments. The U.S. Air Force recruiting page on Facebook, by contrast, posted only 12 times last week, but that content  generated 12,947 likes, 518 shares, and more than 1,500 comments. The SRM shows once again that engagement often isn't determined on simply how often you post, but what content you post, and what interaction it brings about.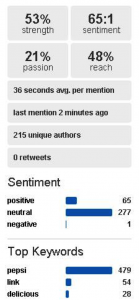 Solving Sentiment and Keeping Keywords
You can see which keywords are most related to your brand and get an idea of how people feel about it with another free site, Social Mention. The site does a pretty good job of putting assigning a numerical value to "passion" (individuals talking about your repeatedly), and "sentiment" (ratio of positive comments to negative). I also like its formula for "reach" — number of unique authors mentioning your brand divided by the total number of mentions. Sentiment analysis isn't perfect, and Social Mention's rankings are still being refined, but they give you a good baseline to measure against — and to justify your social recruiting budget to the C-suite.
Putting it All Together
Social recruiting has become an integral part of talent acquisition. Understand the ROI of creating and managing social channels, whether it's an intern using free apps or a dedicated team using enterprise software. Like other aspects of organizational success, social recruiting must be measured to determine what works and what doesn't.
How are you measuring success?