Every now and then I'm pleasantly surprised at how much a blog post resonates with readers. While I may personally think the topics I cover are interesting, the reality is very few blow up with likes, shares, and comments. Case in point, when I wrote "Study Says Less Is More and Cheaper is Better When It Comes to Recruitment Videos," I didn't expect video to resonate so well.

However, it did, proving to me that video is something people care about, and want to learn more, as it pertains to recruiting. The gist of the post was that job candidates prefer hearing messages from potential bosses and coworkers, as opposed to CEOs and HR folks, and that cheap, raw videos show on a smartphone is better than dropping thousands on a professionally made video.

Knowing this topic resonates, I thought it would be beneficial to review a new product from video hosting and marketing solution Wistia (think YouTube with better analytics and lead generation features) called Soapbox. In short, the product allows anyone to record a video in conjunction with screensharing, creating a video that looks homemade while also looking like you spent a few bucks.

Soapbox even has a separate section on how employers can use the service. It's rare to see a marketing solution that understands it can also apply to recruiting. "Video is the ideal way to bring your workplace culture to life, and Wistia's player allows you to put your brand front and center," says the company's website. "Customize the colors and controls to suit your needs, include a logo or watermark to make the player your own, and encourage shares on social media with share buttons."

Soapbox videos can go in your job listings and social media pages. You can even integrate with marketing platforms like Mailchimp in order to capture candidates, even if there are no current openings specific to them.

"As far as HR and recruiting goes, video really helped us pick up momentum when we were hurting for great hires but too small to compete for them," said Brenton Williamson, creative lead at BambooHR, on the company's website. "Recruiting competition is fierce. And while an amazing culture and a refreshing product secured the hires, video did a great job at getting their attention."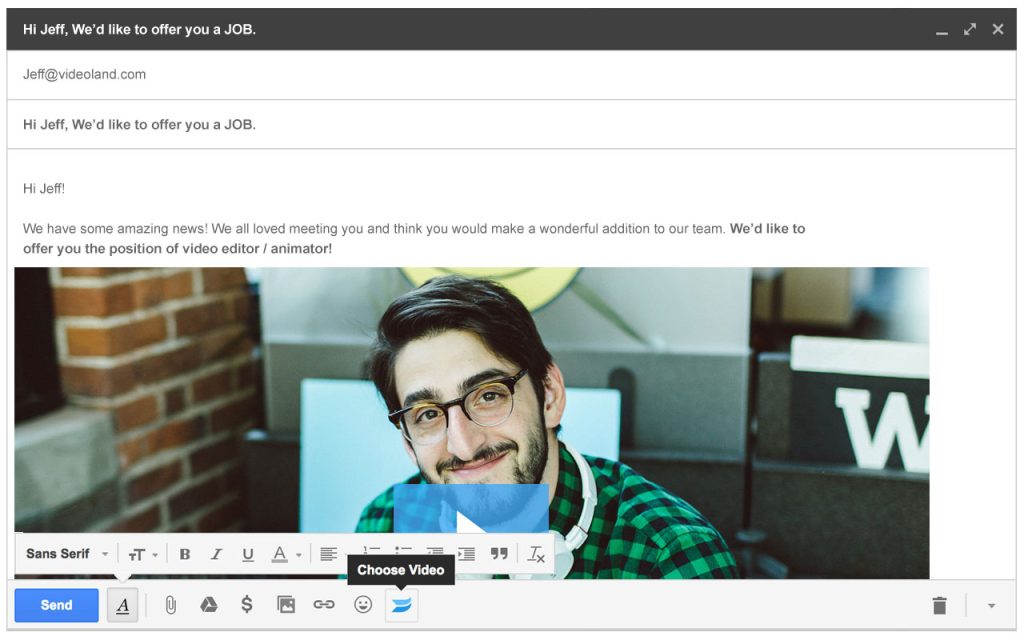 Additionally, Soapbox videos on Wistia lets employers share job offer videos securely and privately. Through their domain restrictions and password protection, employers can send videos that will only be seen by the audience they select.
"Create a quick video for that dream candidate, send it to them with Wistia for Chrome, and use our analytics to see exactly when your candidate has watched the video, and how much they've watched," says the company.
The company highlights Starbucks, Sephora, and Trader Joe's as employers using the video solution, although it's probably safe to say Soapbox is too new to say the companies are using these to recruit yet. Wistia also released Soapbox Pro this week, enabling users to produce custom videos. The cost is $12.50 per month through a Chrome Extension.