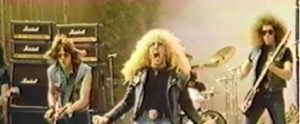 Overall hiring is increasing! Recruiters I've recently spoken with, including many at the ERE Expo in San Diego recently, are all off to a great 2011. The forecast for the 2nd Quarter of 2011 is extremely optimistic for all industries.
What is the best way to take advantage and cash in on the new wave of hiring?
1) Get Organized to Maximize Your Bandwidth
I've been fortunate to be engaged on many new positions the past few weeks. It's important to be able to quickly add a new job, gather key requirements anf search criteria, post the job online, search for candidates, and run more advanced campaigns to reach out to passive candidates.
An easy to use Applicant Tracking System should make this process fast and integrated. Each job within your ATS should contain its own job description, online posting info, Boolean search string, and contain its own candidates. Switching from job to job will become seamless and allow you to increase your recruiting bandwidth, capacity, and productivity.
2) Use Free and PPC Job Postings
Recruit for less! Take advantage of free boards Indeed and SimplyHired. These boards get nearly 10 million unique visitors per month and it's absolutely free for you to post your jobs direct from your company. Want to get to the top of the boards? Try sponsoring a job on Indeed direct from your ATS.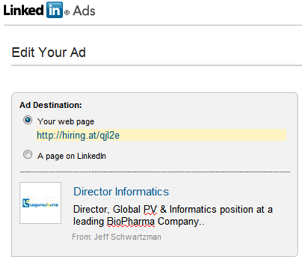 Take a more direct approach and try LinkedIn Ads. This is a low cost solution letting you target a specific audience for you job on LinkedIn so you can pinpoint the exact people who see your Job Ad.
Begin by Starting a New Ad Campaign.
Create your ad and include your job's apply URL as the Ad Destination. A http://www.hiring.at/… short URL works great and will automatically track back the source. You will know when candidates apply from LinkedIn.
Next step is to narrow your target audience. You can filter LinkedIn members by Geography, Company, Job Title, and Groups. You have the option to select specific company names or select industry categories.
Last, set your Cost Per Click (CPC) and your Daily Budget. LinkedIn does a great job of suggesting a bid range and Minimum Budget.
3) Quickly Recruit Passive Candidates


Similar to LinkedIn Ads, if you have a job where it's best to pinpoint candidates by job title, industry, or company, Jigsaw is a great resource! Jigsaw (a Salesforce.com company) is a database directory of over 25 million business contacts added and edited by a community of over 1 million users. You can easily search the Jigsaw database by Job Title, Company, Industry, and Location and return a contact's email and phone number. The process of searching Jigsaw, importing contacts, and even mass emailing the contacts right from within your Job record should be fast and seemless. 
4) Work with Social Media
Everyone has their own social media strategy. If you reach out to potential candidates through LinkedIn, Twitter, Facebook or any other sites to promote your open positions, each job should have its own short URL like http://hiring.at/qjl2e. Now you make it easy for potential applicants to apply directly to your position and you can also track back the referring source.
5) Quickly Get to the Right Applicants
Flooded with resumes? Candidates who apply for your open positions should be ranked according to keywords associated with your job description. You should be able to cherry-pick and be notified about the best applicants so you can get in contact right after they apply.
Ask a few screening questions when candidates apply. Applicants who are a fit for a position choose to answer questions with complete and thorough answers. Completed questions contain valuable information about an applicant, better than a cover letter, and can be shared with a client.
6) Track Your Reporting, Analytics, and Metrics
What recruiting metrics do you track? Recruiting can be a game and your overall placement performance is based upon your basic metrics, which you can control. New jobs lead to resume submissions, which lead to interviews, which lead to offers, which lead to placements. Basic stuff! Are you tracking this? If so, can you get this info yourself, and easily?
The same goes for your open positions. You should be able to grab stats on your active positions, and run a quick report listing each job's days open, application history, interviews, offers, and hires. You should also be able to get extra details including a history of candidates who have applied, what source they were from, and even which source yields the best applicants.
7) Maximize Your Phone Time
We all know phone calls are the essence of a recruiter's job. It should be easy for you to call a candidate, view their resume, view the job you are pitching, and take notes about this candidate together on one screen. Your time should not be spent sifting through your ATS looking for info while you are on an important call.
You should be able to have a pre-built callsheet/tearsheet for each job and one large callsheet for all your jobs. It should also be easy for you to mark candidates you would like to call and track when you've left voice messages.
Get Ready to Rock!!!
Does your current Applicant Tracking System allow you to do all this? Do you even have an ATS? If not, get started today so you can rock your 2nd Quarter!