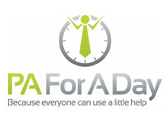 A quick look at some of the goings-on in recent days from the recruiting/human resources world:
If you're looking for a gift for the busy New York professional who has everything, you can now get them a "PA for a day." The new temp firm, founded by a PR/events director for a New York ad agency, offers personal assistants for a day — actually for as little as two hours, at a rate of $20 an hour. The company says that "personal assistants cannot and will not assist with any tasks that are illegal, illicit, or questionable." In addition, "PA For A Day currently does not offer babysitting/childcare services." We're not sure if they're referring to the boss's kids, or the boss himself.
Hey LinkedIn, better sound general quarters. You're under attack by a Norwegian startup. JobCruiter sent out an announcement about its launch with the in-your-face headline "JobCruiter.com Challenges LinkedIn." The site, says the announcement, has "ambitions of being the best global career network." Now, here's the fightin' words: "Many see today's career networks just as boring overviews of their contacts where nothing is 'happening.'"
So many job boards launch in a week that we're tempted to erect our own population clock. Atlanta, which has no shortage of job sites already, has one more as Twitter jobs broadcaster TweetMyJobs gets into the job board business. The city is partnered up with TMJ, which puts Mayor Kasim Reed right on the front page. The site itself does what all job boards do, provides a search box, a dashboard to manage searches and submit resumes, and a way for job seekers to see who of their Facebook friends works at a hiring company.
Speaking of new sites, CareerBuilder took the occasion of a survey about relocation to announce its new CareerRelocate site. It's a cool site with a graphical skills demand indicator, which told us that cowboy country is where there are jobs in the "other" industry category. But will the jobs move us? The survey says about a third of employers will. Forty-four percent of workers say they're willing to go, but when they do 41 percent leave the family behind.
Bad news on those relocation prospects for recruiters, though. Wanted says job ads for recruiters increased only 4 percent between December 2010 and December 2011. That's about 50 percent better than what it was back in 2008 and 2009. But that CareerBuilder jobs demand map says most of the country doesn't have much need for recruiters.
Jobvite says it's making it easier for veterans to find jobs. Jobvite customers can flag job opportunities specifically for veterans. Among other features of the application, jobs specifically of interest to veterans can be tagged, after which they automatically get added to the Veterans Job Bank.