New York City-based RealMatch, a "10-year-old startup" recently best known for bouncing CareerBuilder off its newspaper publisher partner perch, has a brand new solution for employers looking to take advantage of the programmatic advertising trend. The new solution is called pandoIQ.
RealMatch president Terry Baker unveiled the solution at Lead2018 in Salt Lake City this month to a group of industry thought leaders and bloggers. "PandoIQ job campaigns deliver cost efficiencies and higher number of applicants to employers through proprietary, patent pending predicative algorithms using historical performance data to accurately predict not only what real-time bid amounts to make for maximum exposure, but also what sites deliver best results for any job type," he said.
If you're a little late to the programmatic party, here's a brief refresher. The first iteration of job posting includes traditional pay-to-post options such as newspapers and Craigslist. Next came the cost-per-click models, popularized by Indeed, followed by distribution players like ZipRecruiter. The next wave of recruitment advertising tech gives rise to the machines and includes Recruitics, AppCast, JobAdX, and now pandoIQ.
Baker says less than 1 percent of employers currently use programmatic ad buying, but predicts 50 percent will rely on the technology by 2025. "We use machine learning techniques and biomimicry algorithms to fully automate and optimize job campaigns managing large and diverse job volumes," said Baker. "But if you're not into the under-the-hood algorithmic techie-talk, than our analytics, data insights, and reporting show results that just speak for themselves."
Customers using pandoIQ will feed their jobs into the platform and let the algos do the heavy lifting. Openings get distributed through sites like Indeed, LinkedIn, Jobs2Careers, and others. Targeting based on the company's job matching and historical data engages candidates on job sites at strategic times in order to deliver applicants. Budgets are also dynamic based on the biggest bang for a company's budget.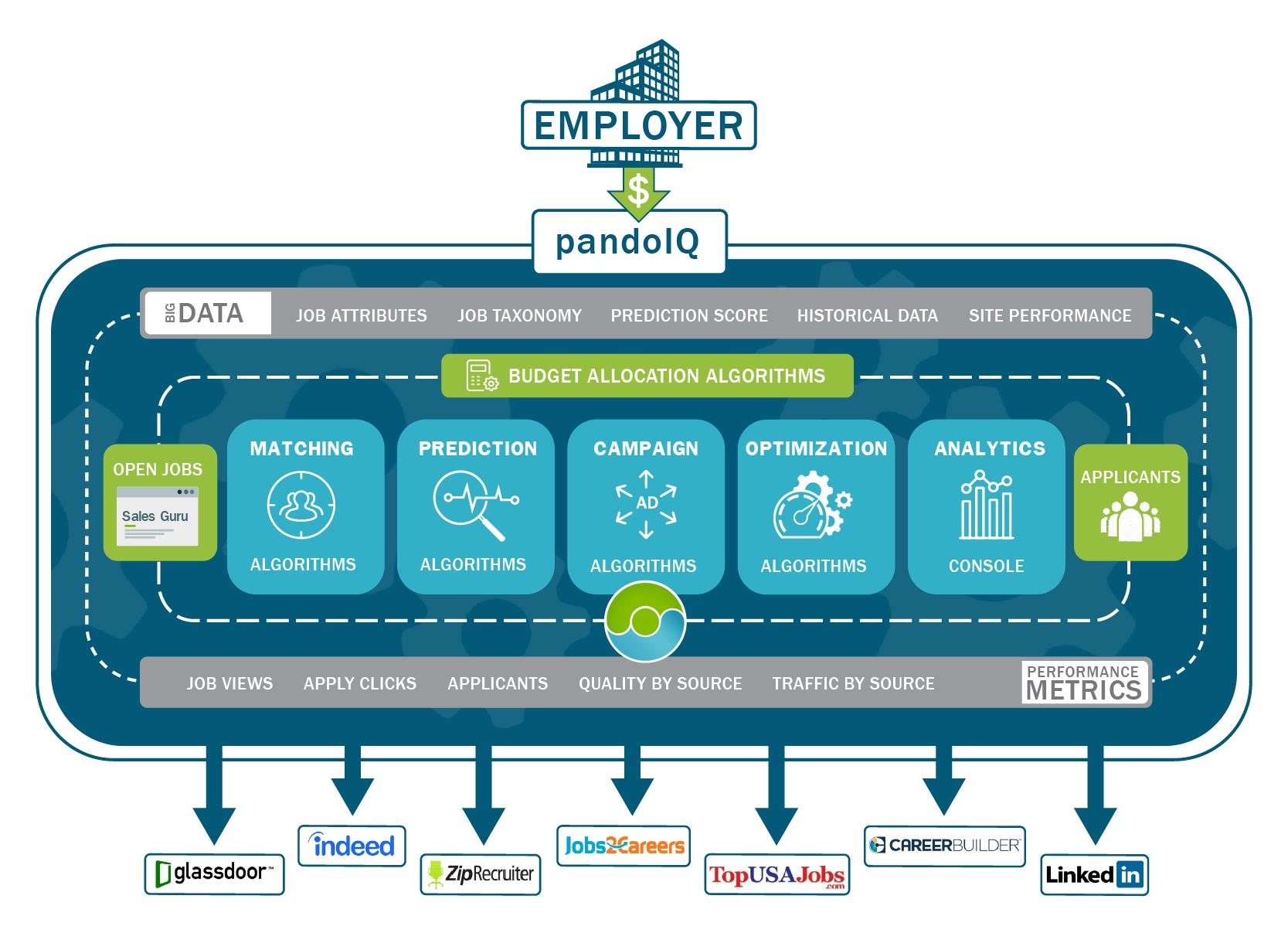 If the marketing landscape is a good barometer for what's next in recruitment advertising, it's tough to bet against this kind of strategy. According to an eMarketer study done late last year, 83.6 percent of U.S. digital display ad dollars will transact programmatically by 2019. Additionally, more than four-in-five digital display ad dollars in the US, equalling $45.72 billion, will flow via automated means, mostly to mobile instead of desktop.
"We believe the winner in programmatic recruitment advertising will be the platform with the best algorithms and most intelligent use of big data," said Baker. Pricing was not revealed, but it's a good bet employers will simply set a budget, possible based on pandoIQ's recommendation, and let the service optimize accordingly.