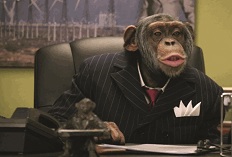 Like the Giants and the Patriots, CareerBuilder and its controversial band of chimpanzees will be making a return appearance at this year's Super Bowl in Indianapolis.
In this year's 30-second commercial airing during the fourth quarter on Feb 5, the chimps wreak havoc with their human co-worker during a business trip, ordering 46 banana daiquiris, while brainstorming a poison ivy shampoo.
The chimps have proven to be an audience pleaser since making their debut in CareerBuilder's first Super Bowl ad in 2005. The company's three ads all made it into the top 10 in most of the popularity polls. The company reprised the monkey concept the following year, then tried a variety of other concepts, including viewer-conceived ads.
Last year, the chimps returned in an ad called "Parking Lot." It ranked sixth in the USA Today Super Bowl Ad Meter poll, but prompted a complaint from PETA, People for the Ethical Treatment of Animals, over the use of chimpanzees. The organization, once monitored by FBI counterterrorism investigators, released a letter from Angelica Huston calling on CareerBuilder not to air the commercial and to never again use chimps.
CareerBuilder explained that it's again using chimps, despite the complaints of PETA and other animal-rights groups, for the simple reason people like them. "The chimpanzees were brought back by popular demand. It's been a very successful campaign that job seekers identify with and act upon," CareerBuilder VP of Communications Jennifer Grasz told Forbes.
Monster, whose 1999 "When I Grow Up" commercial is considered one of the best Super Bowl commercials of all time, has yet to appear on any list of this year's advertisers. The company last ran a Super Bowl commercial in 2010.
At a per ad cost approaching $3.5 million, the Super Bowl is the most expensive TV buy in the world. CareerBuilder says it's worth it and sent along these data points:
Revenue – Over the last seven years, on average, CareerBuilder's invoicing increased 36% year-over-year in the month following the Super Bowl.  This consistently outpaced year-over-year growth in other months.
Applications – Over the last seven years, on average, CareerBuilder saw a 24% year-over-year increase in applications to our employers' jobs in the month of the Super Bowl.
Traffic – CareerBuilder's traffic grew 43% year-over-year during the month of the Super Bowl when we first debuted as a Super Bowl advertiser. CareerBuilder has seen continued gains and, in 2011, the company had an 18% year-over-year increase in traffic in the month of the Super Bowl.
Brand Awareness – Per a Millward Brown awareness tracking study, from 2004 to 2011, CareerBuilder's unaided awareness grew 29%. Total awareness of CareerBuilder's TV ads doubled in the week following our first appearance at the Super Bowl.