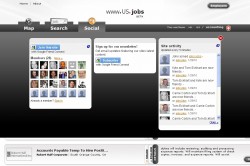 In a blog post about yesterday's DirectEmployers meeting, publishing industry analyst and consultant Peter Zollman called it "a valuable information session."
Recruitment consultant Gerry Crispin, who attended this morning's second session, described it as a useful meeting that left him "very satisfied that the intent (of the creation of the dot-jobs domain) I have consistently written about … is reflected in what DirectEmployers is doing."
The meetings they and a few others — perhaps a dozen in all — attended in Indianapolis were called by the DirectEmployers Association to answer questions and explain the non-profit recruiting consortium's plans to build-out tens of thousands of recruitment sites all with an Internet address ending in .jobs.
Zollman reports in his blog post that next week 25,000 of the sites will go live. The "number will increase exponentially on an ongoing basis," writes Zollman, until every community in the U.S. over 5,000 population has a job site for itself.
Those geo-focused sites will be supplemented by occupation-specific jobs and, where there is demand, geo-occupation-specific sites. The number could potentially reach the millions, says the information site for the project, Universe.jobs. Some of these sites launched a few months ago in beta. Here's one for Atlanta and one for sales jobs. Other sites are detailed here.
Crispin, an early supporter of the creation of the .jobs domain, said he was encouraged by the focus of DirectEmployers in the development of the recruitment sites. "DirectEmployers intends to focus in on how to build it out as to how ICANN intended it," he said.
(ICANN is the Internet group that decides naming conventions and authorized .jobs, a top-level domain. Details of the request by the Society for Human Resource Management and Employ Media to ICANN to create the domain can be found here.)
Crispin explained that the job listings on the DirectEmployers sites will all be real jobs from real companies, which was one of the goals in creating the .jobs domain. Another was to make it easy for job seekers to find corporate career sites. But in all cases, in order for a .jobs address to be awarded, the company had to agree to abide by an ethical code.
While what DirectEmployers is building looks and sounds like job boards, Crispin said it's not. "At the end of the day, it's not job boards … It's something more."
He was boarding a plane out of Indianapolis (where the meetings were held) so he didn't have  much of a chance to explain. But looking at the .jobs sites, it's clear they have evolved from their first iteration back in October. There's a social element to them and a connection into social networks. Click into the FOLLOW tab in a job post and you can get a listing of employees on LinkedIn.
The project may well continue to evolve. Crispin said its future is "not set in stone."