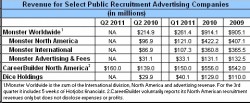 The two largest, publicly held job boards are scheduled to report their 2nd quarter financials this week, and there are indications that the news will be good.
Tuesday morning, Dice Holdings releases its financials. Two days later, on Thursday, Monster reports. LinkedIn, which may or may not be a job board depending on your point of view, reports on August 4.
Privately held CareerBuilder released some limited numbers last week. One of the two largest career sites in the world, it reported $160 million in revenue from its North American operations. That represents a 15.1 percent increase over the same quarter in 2010, and a 6.67 percent increase over the first quarter of this year.

The Chicago-headquartered company doesn't make public its other numbers, so only the owners know how well CareerBuilder is doing on the other fronts. There were some hints last week when its largest shareholder, Gannett Company, conducted its 2nd-quarter financial conference call. Gracia Martore, president and COO, credited CareerBuilder with "another strong quarter," adding that among the reasons "was a significant revenue increase in their international operations."
CareerBuilder's CEO, Matt Ferguson, in a separate comment, attributed the job board's growth to three factors:
One, the employment situation is improving in the U.S., Europe, Asia and other markets.  Companies are in a better financial position today and are feeling more confident about adding headcount. Job listings on our site were up 20 percent year over year in the second quarter.

Two, it reflects a greater demand for our human capital solutions that go beyond our job board …  We're seeing rapid adoption of our Talent Network offering, Supply & Demand portal, and Work@ application, among others.

Three, our international business is growing rapidly. CareerBuilder operates sites in 21 countries worldwide and has a presence in over 55 markets. Global economies are in recovery and in need of talent.

Tuesday morning, Dice Holdings will report its 2nd quarter results. With tech one of the hottest job sectors, the company's flagship, Dice.com, the web's best known tech  job board, grew revenue by some 35 percent in the first quarter. (ClearanceJobs.com, another of the company's sites, contributed to the total, but the bulk came from Dice.com.)
Analysts are expecting $43.55 million in revenue when Dice reports at 8:30 a.m. ET. Profits of 11 cents a share are predicted, a penny a share consensus increase in the last 90 days.

Monster, which reports Thursday, is a bit of an enigma. The company is expected to report earnings per share of 8 cents on revenue of $266.12 million, which is the mid-point of what the company predicted back in April.
Although analysts lowered their quarterly earnings consensus a few months' back, there is a certain bullishness about the stock. UBS upgraded Monster to a buy recommendation in June. After Monster launched BeKnown a few weeks ago, Zacks Equity Research praised "management's recent efforts to revamp business by constantly introducing innovative products along with cost-reductions."
So what's the enigma? The impact all the state and federal layoffs and budget problems are having on Monster's government unit. During the 1st quarter financial report in April, Monster's CEO Sal Iannuzzi warned analysts that government spending could be "a little bit lumpy at times." With government employment spending accounting for about 10 percent of the North American revenue ($121 million in Q1 2011), the company was conservative in predicting its revenue and earnings.
One more thing: Is it meaningful that Monster will release its financial report before the markets open Thursday morning? Probably not. It wouldn't be the first time it held a morning briefing, though usually the numbers and conference call are held after the market closes. On the other hand, if I had really good news, I'd want it to get as much mileage as possible, in which case two days of trading before the weekend would be better than one.