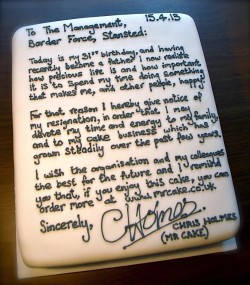 The way Chris Holmes quit his border security job must have made Gordon Ramsay proud.
It wasn't a bad-boy, burn-the-bridge resignation that has garnered all the attention for the 31-year-old new father whose friends and co-workers call him Mr. Cake (for reasons that will become obvious in a moment). That might have been more the Ramsay style.
Holmes let them eat cake.
He inscribed his letter of resignation from the UK's Border Agency on a cake:
Having recently become a father I now realise how precious life is and how important it is to spend my time doing something that makes me and other people happy.
Holmes honed his baking skills under the tutelage of Ramsay and another celebrity chef, Marcus Wareing. As sweet as the spiced carrot cake was, HR is no doubt fuming that he failed to use the proper form for his resignation
Now This Is a War for Talent
If you think you're in a fight for top talent and sometimes have to settle for just a little less, try this: A Mexican cartel is looking to recruit you. Gang experience preferred, but not critical.
A declassified FBI report says the cartel is hiring.
…current FBI reporting indicates that Los Zetas is recruiting and relying on non-traditional, non-military trained associates — US..-based prison and street gangs and non-Mexican nationals — to perform drug trafficking and support operations in Mexico and in the United States.
Between arrests and, um, final terminations, the gang has lost so many of its trained members that it's recruiting "untrained and undisciplined" staff. And, it outsourced its drug trafficking, debt collection, and hits to the Texas Mexican Mafia.
Good Pay, Great Benefits, Beautiful Daughters

It must have seemed like a clever marketing idea. Feature a bunch of famous — and beautiful — Bollywood actresses, daughters of ex-military parents, on a recruiting billboard. Then slap a headline over it saying: "If you want to have beautiful and successful daughters Join Indian Army."
Only problem for the Shillong recruiters is they never asked permission. When the pictures of the billboard started showing up on Twitter and Facebook, HQ found out and you know who got chewed out.
"Army Strong" evidently doesn't resonate in India quite as strongly as it does in the States.