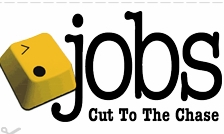 Employ Media is looking for a few — or more — good ideas for how best to make use of the newly expanded addressing possibilities of the .jobs domain.
This isn't the formal RFP process that was outlined in Employ Media's expansion proposal. Rather, it's more of a 30,000-foot brainstorming opportunity. "High level business concepts" is what the licensed operator of the .jobs domains says on a new website it's looking for.
In 150 words or less, Employ Media wants to know what ideas you or your organization have for making use of the almost unlimited new .jobs names now available. "We're particularly interested in hearing ideas comprising a bulk number of domains," says Tom Embrescia, chairman of Employ Media.
There's no commitment nor any obligation. Though if you have a really good idea, you might keep in mind this caveat from the Terms and Conditions: "Employ Media LLC is free to use any ideas, concepts, know-how, or techniques contained in any communication you send for any purpose whatsoever."
One obvious use is to create a "universe" of job boards as DirectEmployers Association was starting to do last fall. Partnering with Employ Media, DirectEmployers launched dozens of sites with addresses such as nursing.jobs, Atlanta.jobs and so on. It had plans to launch tens of thousands more, until the Internet addressing authority questioned its right to do so.
The letter from the Internet Corporation for Assigned Names and Numbers triggered a seven-month process to amend the original agreement that created .jobs addresses. Part of the process required a review by the Society for Human Resource Management, which was a sponsor of the .jobs domain.
Last week ICANN approved expanding .jobs addresses to permit geographic, occupational, industry, and dictionary names. Now Employ Media is starting the process to make use of them, with the first step soliciting Expressions of Interest. These EOIs, as they are being called, are a prelude to the formal RFP process that will begin sometime after August 24, which is the deadline for submitting an idea. And you must use the form on the RFP.jobs site.