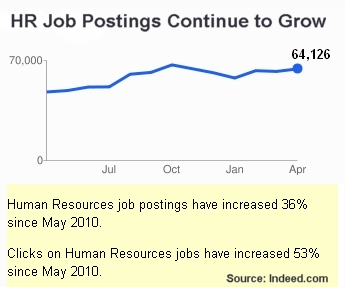 Private industry job growth may have stalled last month, but HR jobs continued to grow.
New job trend numbers from Indeed.com show that human resource job listings grew 4 percent from April to May. For the month, Indeed counted 66,482 new listings for HR jobs of all types. Since May of last year, that's a 36 percent increase.
At the same time, the number of searches for these jobs increased 53 percent in the year. And the number of clicks into HR jobs also jumped. Most frequently clicked on in May were HR jobs with the title of generalist, assistant, or manager. Recruiter titled jobs got almost 83,ooo clicks.
"Human resources" was the category's most frequently searched keyword, with 726,000 searches during the month. Add in the keyword variants such as "HR" and the search total bumps up to almost 900,000. "Recruiter" was second, with 111,000 searches.
Indeed.com has similar data for a dozen other industry categories. Only job listings in the real estate sector showed a consistent decline for the year, the quarter, and the month. The biggest percentage growth in listings for the year was in transportation, at 65 percent. Manufacturing was second, with a 52 percent increase in listings. By far, healthcare has the most number of jobs advertised.