You want proof positive that the U.S. economy is picking up? The percentage of HR jobs being advertised is growing by double digits.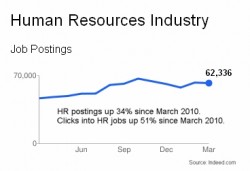 In March, says new data from Indeed.com, HR jobs were up 34 percent over March of 2010, and the number of human resource job postings grew faster than those in half a dozen other industry categories. In the last quarter alone, HR beat out the growth in most of the categories that Indeed tracks. Now that says something about the confidence of American employers.
Indeed, today, began listing human resources as the 13th category in its employment trends. The jobs site counts the number of HR and HR-related jobs during a month, scrubs the list to eliminate duplicates, and posts the results. It does the same for clicks into the HR listings on Indeed. (Because Indeed sends those clicks directly to the site where the job post originated, it can't say how many turned into applications.)
Indeed also offers a few other data points: top keyword searches; top 10 job locations (New York, for HR, is #1, but St. Louis, and Charlotte, NC, also made the list); and the top job titles advertised.
Indeed debuted the list at the ERE Expo two weeks ago, with data showing HR jobs were up 37 percent year-over-year. For the Expo audience, Indeed did a special tabulation of recruiting and related jobs, which showed a 49 percent growth there on a February 2011 to February 2010 basis.
When you get done checking out the HR jobs, don't forget to review the rest of the categories. It's a good way to see what types of jobs are hottest and where the reqs are strongest. (No surprise: that would be healthcare.)
It's also a good way to discover that real estate might not be the place to consider for your next career move.