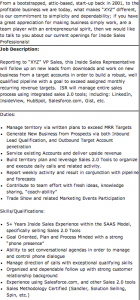 One of the things that frustrated me when I was a recruiter was a poorly written job description. This was just one of many puzzle pieces that provided the impetus for me to leave recruiting and work on aligning talent strategy with corporate strategy.
For those of you who are responsible for writing job descriptions and/or approving them for your company (hiring managers, corporate recruiters, RPOs), what guidelines do you follow to produce exceptional and accurate job descriptions? Do you even follow any guidelines? Has anyone ever taught you how to write an effective and accurate job description? Have you thought about what's necessary to attract the "right" candidate for you and used these things to recruit those top performers so they want to come to work for you? Do you just throw the job description onto your "careers" page, a job board, or social networking site, and hope (I always say "hope" is never an effective strategy) great candidates find you? But most importantly, is your job description a reflection of an aligned executive team, benchmarked employees, and well-thought-out recruiting practices that are directly in line with executive alignment and culture?
One of my LinkedIn connections passed on a job description through his network for one of his connections who's looking for inside sales folks. The individual who wrote it is a VP of Sales & Marketing. I'm not sure if he's responsible for all their recruiting or if this company also employs corporate recruiters and/or 3rd party agencies. Either way, this is a wonderful teaching example of what won't work, unless you're looking for low-quality employees. I've included the entire job description (click to enlarge) with the company's name removed, for obvious reasons.
As you read this, can you see some of the main the issues I'm seeing? It occurs to me that they are just casting a very wide net to see what they may catch. Let's look at the most important items.
The company's name is listed in the first sentence but there's no indication of what this company does, a brief description of who they are, what makes them a company you would want to work for, etc. Is the writer of this job spec "assuming" the reader knows what they do? Do they think this is going to attract top talent? If they aren't going to take the time to put together a well-thought-out description, how will they be to work for? This is the type of job description that will probably attract candidates who are just looking for a job because they need one. Maybe this job can tide them over until the economy improves …
What does this company sell? It says that they want someone with experience selling the "SAAS Model," specifically Sales 2.0 Tools. Is this the product?
They are looking for an inside rep … Where will this candidate be located? Will they be required to work at the corporate office or from home wherever they live? What's the territory? Is it vertically focused?
Is there a quota? What's the average deal size?
What about the comp plan? Why is it missing? Leaving the plan out may cause the reader to assume some things.
Candidates who aren't looking for work will probably not even waste their time looking at this. If the plan range is not there the plan may be lousy.
Leaving a comp plan out of a description makes me wonder what they're trying to hide.
Putting the comp plan in the description like this can also do a number of different things:
It may attract candidates who have never earned anywhere near the plan.
It may keep higher quality candidates from looking at this if they're already making more money than the plan. They don't know if the plan is negotiable based on experience, talent, quality, etc.
Five years of inside sales required. Do you know anyone in inside sales who is just waiting to move to outside sales once they have enough experience? Granted, not all inside reps want to move outside, but many do. You may capture candidates who are happy in the status quo.
What percentage of time is spent qualifying inbound leads vs. outbound target account penetration? It takes very different types of sales skills to farm (qualify inbound leads) and hunt (outbound penetration). It would be valuable to the candidate reading this to know where they need to be stronger.
Lastly, and most importantly, they say they want a "team player with an entrepreneurial spirit …" Does that sound like an oxymoron to anyone else? I'm not saying one can't be a team player and be entrepreneurial. Culturally, candidates (and companies) will be more heavily weighted to one or the other. I suspect this company has never invested the time to look at their culture and even attempt to align it to be sure they are all on the same bus headed to the same destination.
That should be enough to get you thinking more broadly about what you should be doing internally to be able to generate a high quality job description. I'd love to hear any thoughts, comments, concerns, or questions about this topic.