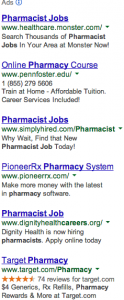 Those of us who have been recruiters in the healthcare industry always find challenges competing with the big companies. When I was a more clinically focused recruiter in the home infusion industry, it was very frustrating. Every time I go to campus pharmacy recruiting events, there are always the huge displays from CVS and Target pharmacies, enticing the students with their lavish bobble-heads, squish balls, and overly inflated sign-on bonuses to join the wonderful world of retail pharmacy. All I had was a message of practicing a more advanced level of pharmacological science, and the ability to make admixtures that would directly save someone's life the day you mix it.
Then I started thinking about how I could slay Goliath, how I could beat the Big Dawgs to capture the best and brightest candidates, without having to compete with those huge retail sign-on bonuses, and beautiful bobbleheads they gave out at the campus events. (For full disclosure, I did take one home. C'mon, it's a bobble head, how could I resist).
So, I benchmarked guerilla tactics.
Yes, guerilla tactics; the tactics one uses to take on a much stronger opponent in a warlike scenario. In recruiting this is making strategic moves to meet the candidates where they rested, where they studied, and where they played … targeting them when they least expect it. All the sudden Joe Student is using Google to find research for their paper on TPN Infusions, BAM!
There I was with a targeted keyword Google Adword, making that bobblehead no match for my $0.50 pay-per-click ad. I used creative keyword searches to put my job right in their faces, meeting them where they lived and breathed pharmacy. Then I looked deeper, using social media with Facebook ads targeting the students where they played. Looking at cat videos on Facebook, but have "pharmacy student" in your profile, BAM! There my ad was in the top right corner nagging you to click and apply.
Diversifying your thought process, and getting guerilla on your "too-big-to-fail" competitors, is satisfying when you see the results come in from an effective strategy. You're getting the best and brightest people to apply for these hot jobs, ultimately benefiting the patients who you are here to serve while giving the most intelligent students and prospective candidates a shot at an amazing job in the very satisfying field of healthcare providers.
I like being the underdog, having fewer resources, with nothing more than my wits and innovation and a compelling mission to work with. Innovation thrives in a lack of resources; there is so much you can do when you have less to work with. They can have their $30,000 sign on bonuses, bobbleheads, and oversized banners. I'm fine with my laptop and a little bit of ingenuity.