The fastest-growing human resources technology company many have never heard of is having its own challenges attracting technology talent, and has begun a recruitment advertising campaign.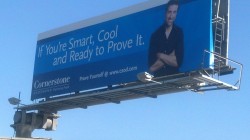 It's very early in the branding-advertising effort by Cornerstone OnDemand, one its CEO Adam Miller says will involve social media, and has already involved 18 employees running the LA marathon with company shirts on, partly to raise the firm's profile.
Los Angeles is a massive, sprawling (the 37-mile drive home tonight from the Cornerstone conference took me a mind-numbing 3 1/2 hours) metropolitan area of about 13 million, but it's not a magnet for tech talent like Silicon Valley is. (This despite a growing number of tech firms — including some in the HR field — that are setting up shop and calling the tech community by the monicker "Silicon Beach.")
The value proposition for Cornerstone OnDemand candidates is multi-fold. It includes the chance to be at a hot, growing company in one of the hottest areas of technology (human resources); and opportunities to advance (25% of the company's employees were promoted last year). Perhaps most of all, the ad campaign is aimed at making people aware of a company that most people in LA don't even know of in the first place. "Not all cool tech jobs are in Silicon Valley," Miller says.
Cornerstone OnDemand this year launched a "recruiting cloud," entering into the one part of talent management where it had thus far had the least presence. Miller says about a dozen companies are purchasing the technology, some mid-size, some quite large. This "cloud" was a "good first release," he says, but this summer, upgrades including a way to manage offer letters will, he says, make it "extremely competitive."