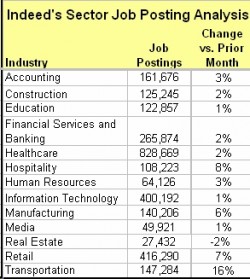 This is the week employment numbers for the U.S. will be released by the Labor Department, and economists expect them to continue the robust trend of the past few months.
In advance of Friday's release by the Bureau of Labor Statistics, the average of economists' predictions are that it will show the U.S. added 183,000 non-farm jobs during April. ADP's National Employment Report, due out tomorrow, is expected to show 198,000 private sector jobs were added. The unemployment rate is predicted to remain at 8.8 percent.
Optimism in continued jobs growth is reflected in several indicators measured by the Conference Board. Both the CEO and Consumer Confidence indices showed improvement. The CEO Confidence index climbed in the first quarter of the year by five full points, and now is at 67.
"CEOs' confidence has improved, yet again," the Conference Board's research director, Lynn Franco said, "and expectations are that the economy will continue to expand in the coming months. As for the employment outlook, CEOs are more bullish than last year, with half now saying they intend to ramp up hiring."
Consumers, too, are more optimistic, if cautiously so. The Consumer Confidence Index was up in April 1.6 points over March. However, their opinion of specific components of the Index shows very mixed feelings.
The survey, released last week, says those expecting business conditions to improve over the next six months declined to 18.8 percent from 20.8 percent, while those anticipating business conditions to worsen decreased to 14.2 percent from 15.5 percent.
But, The Conference Board noted, "17.5 percent from 19.6 percent, while those anticipating fewer jobs declined to 19.0 percent from 20.5 percent. The proportion of consumers expecting an increase in their incomes improved to 16.7 percent from 15.2 percent."
As if to confirm what consumers and job seekers were feeling, The Conference Board's count of online job postings declined in April by 124,000. The count isn't absolute, and it's often revised, but it is a reversal of a six month upward trend, that had only one down month, December, which is typically a slow hiring month.
Monster's Employment Index, to be released Thursday, will help clarify the posting picture. Like The Conference Board, Monster collects postings from multiple job boards and career sites, discards duplicates, but it creates an index. It has been rising since January.
However, Indeed, which publishes a monthly analysis of 13 industry sectors, showed job posting growth for all but one. Only real estate saw a decline.
The transportation sector had the biggest job posting increase, up 16 percent in April. The sector includes dock workers, forklift operators, warehouse workers, as well as drivers, schedulers and others. For the year, the sector's listings are up 91 percent. That's the strongest growth of all, beating out even healthcare, which was up 2 percent for the month and 36 percent for the year.
Not surprisingly, with the summer vacation season right around the corner, hospitality also had listings growth. The sector was up 8 percent over the previous month and up 27 percent from April 2010.