If Dice Holdings is any kind of bellwether, Q1 is looking like it got off to a slow start for the publicly held job boards. The company reported this morning it earned 12 cents a share on $50.4 million of revenue, which put it mostly in line with what Wall Street was expecting and what the company predicted in January.
However, that was down a penny per share from the same quarter last year, and the analyst estimates were lowered after Dice issued a forecast below what Wall Street was looking for. The other indicator of a general job board slowdown is that most of the $4.3 million increase in revenue comes from the company's acquisition of Slashdot last year. Taking that out of the equation, Dice Holdings grew organically by $300,000, and the tech and security sector saw a 2 percent increase.
Dice also offered a second-quarter outlook forecasting revenue of $52 million; more than $2 million below what analysts were expecting before today's financial release.
Dice stock today is down a bit more than 1% on the news. That's not much, but over the last month, Dice has lost about $1.30 from its high of $10.25.
Dice is a well-managed company that operates in two of the hottest recruiting markets: IT and energy. (It also has a play in healthcare.) Dice Chairman, CEO, and President Scot Melland characterized the current environment for the company as "largely stable."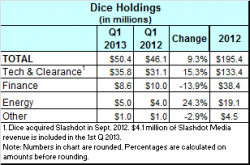 "Overall," he said, "Q1 was a good start to the year, particularly in light of the continued low levels of turnover in professional services, modest job growth and caution due to sequestration, especially in the government and defense sectors."
One analyst, puzzled by the apparent contradiction between the intensely competitive hunt for tech talent and the "stable" growth at Dice, asked why.
Turnover, Melland explained:
If tech professionals are nervous about switching from one opportunity to the next, then everything slows down. So it's a daisy chain of recruiting assignments that happen. If someone leaves company A, they go to company B, that creates a hole in company A, which has to be filled. In a tight market, they're going to steal somebody from company C, and that creates a hole that needs to be filled. So if there's more movement that, that creates many more recruiting assignments, and that's how the turnover really impacts recruiting.
Other employment sectors have their own challenges, which can be summed up as a slowing of hiring generally. Financial services, as evidence by the 14 percent revenue drop in Dice's eFinancialCareers, and by the mediocre hiring numbers in the monthly government jobs reports, is just one example. This impacts the use of job boards at the same time recruiters are turning in ever greater numbers to other sourcing alternatives, especially LinkedIn.
Monster has been struggling for years. It has lost more than half its share value in the last 12 months and is trading today at $4.25. Put up for sale, it found no buyers. CareerBuilder, though not a public company but one owned by public companies, has benefited from Monster's troubles as well as its product innovation and aggressive sales. Still, for the last three quarters, its North American sales (the only number it makes available) has averaged 5 percent.
On the other hand, LinkedIn, which will report its 1st quarter results next month, has been flying high.Its recruitment business alone doubled in 2012 to $524 million. And it is a darling of Wall Street. Its stock today is trading at $187, up $9.66.
Asked about the competition during the Q&A part of this morning's conference call with analysts, Melland said this:
Overall, there hasn't been much change in what's happening in the market. You got LinkedIn, which I think is really our primary competitor today. You've got Monster still with some issues, and CareerBuilder, I think, benefiting from the issues that Monster is facing. And then to round it out, Indeed and the other aggregators are picking up, I think, business in sort of low-end, low-priced segment of the market. As far as our competitive profile versus LinkedIn, I think it's improving.
The improvement he sees is coming from Dice's launch of Open Web a few months ago. It's a recruiter tool that mines the web and dozens of social platforms, building profiles of individuals who have been identified as candidates of interest. Open Web yields far more information about a candidate's interests and professional involvements than does a standard resume. In that way, it's significantly more objective than a LinkedIn profile, which is largely managed by the individual.
Melland noted during the conference, "Although it still accounts for a small percentage of total Dice usage, Open Web usage is growing and is having a positive impact on the renewals of the customers who use it." For now, Open Web is part of the recruitment package contract. When it proves its value, the company look to monetize it on a pay-per-view basis.