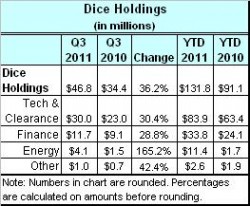 Strong demand for IT and finance helped propel job board operator Dice Holdings to a 36 percent increase in revenue and a 51 percent jump in earnings.
The company this morning reported earning $9.3 million on revenue of $46.8 million in the 3rd quarter, yielding per share earning of 13 cents. Last year for the same quarter the company earned 9 cents per share.
The company said growth was driven by its flagship site, Dice.com, which saw an 18 percent increase in its recruitment-package customers whose average monthly spend grew by 12 percent. The eFinancialCareers operations also saw strong growth with a 29 percent increase over the same quarter last year.
Overall, the numbers were in line with analysts' expectations. Revenue, in fact, slightly exceeded the estimates.
However, company officials estimated revenue for the current 4th quarter would come in at $47.5 million, $1 million below what Wall Street was projecting. The guidance pushed Dice's stock to a low of $8.50 after opening at $9.50.
Dice CEO Scot Melland said, "Recruitment activity did improve in September after a seasonally slower summer; however, the magnitude was less than what we traditionally experience. As expected, recruitment activity slowed in financial services and economic uncertainty is impacting the urgency some companies place on recruiting.'
His comments echoed those of Monster Worldwide executives who noted an apparent slowdown in hiring activity beginning in September. Monster officials said the slowdown appeared to be extending into October.