For 14 years, Matt Ferguson led CareerBuilder. As of today, however, his time as CEO is over.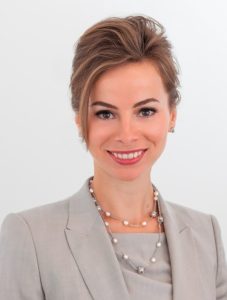 In a release, former president and COO Irina Novoselsky will take over as CEO. Ferguson will be relegated to executive chairman, effective today. Novoselsky was brought in by Apollo Group Management, the company that acquired CareerBuilder, last October. She served as an investment professional at Apollo before running a company called Novitex, which was part of the Apollo portfolio.
Novoselsky spent four years at Novitex rising through the ranks from business development to CFO and then president. As president of the 7,500-employee company, she transformed the document services business to one of tech-enabled, digital services. Anthony Dupree, another Novitex alum, is CareerBuilder's CIO.
"Irina is a talented tech executive with the perfect complement of skills to further establish CareerBuilder as the innovative partner of choice in the competitive HR tech space," said David Sambur, senior partner of majority shareholder Apollo Global Management and current chairman of the CareerBuilder board.
Novoselsky will be counted on to take CareerBuilder into a new era using mobile, AI, and machine learning to provide what it calls "hello to hire" solutions for customers worldwide.
"I'm honored to be at the helm of a company with such a long heritage of innovation, service excellence and talented people," said Novoselsky. "Our strength in online recruitment — combined with new, AI-powered solutions that span the end-to-end candidate and recruiter experience – puts CareerBuilder in a unique position to help our global customers improve their workflows, integrate their processes to drive profitability, increase productivity and maximize business results. Today's HR teams are being asked to do more with less, and CareerBuilder's industry-leading technology and services can help them."
Employees were made aware of the move via email, in the form of a personal message from Ferguson. Here's the content that employees received, sent to me by a current employee on the condition of anonymity:
When I became CareerBuilder's CEO in 2004, there was no thought of a day when I would transition the role. At the time, I was asked to scale a business that was focused on combining the distribution power of online and print job advertising through affiliations with more than 130 newspapers. Our leading online distribution partners at the time were AOL and MSN.

Over the past 14 years, I have often paused to reflect on how much CareerBuilder has changed and how far we've come.

Through all of your efforts, we grew our revenue over 14 times the size we were in 2003 – and almost all of that growth has been organic, the direct result of our team's hard work. We have grown our marketplace from 16 million unique visitors and 400,000 jobs per year to around 200 million unique visitors and nearly 8 million jobs globally last year. We have built game-changing and innovative cloud-based technologies for talent acquisition and talent management. We are pioneering and defining how artificial intelligence will impact human capital globally. And most recently, we have become a single-source provider of end-to-end solutions to help companies find, hire and onboard talent.

But what strikes me most are the things that haven't changed.

The passion for this company that runs deep in our people. The culture of innovation and belief that great ideas can come from anywhere which has given birth to new products and whole new businesses. The curiosity and desire to win that guides how we work. And the way in which we care about and treat each other, like family.

These are just some of the reasons I have come to love this company, and why I have chosen to spend so much of my career here. CareerBuilder is an important, energizing, demanding, sometimes frustrating, fulfilling experience – and I have valued every moment.

Here we are 14 years later — with a clear idea for the next chapter of CareerBuilder, on the precipice of telling this story in a more material way to the marketplace. While the Board and I have been discussing my transition for some time, what we needed was a strong leader who could set the future direction of the company and continue to drive the alignment and transformation needed for CareerBuilder to disrupt the HR tech industry, yet again.

So effective today, I am becoming CareerBuilder's Executive Chairman. And I'm thrilled to say that Irina is moving into the CEO role.

Let me say something about the timing of this decision, as we have given it serious consideration. I am, and we are wholly convinced that the time is right. The company is ready, and so is Irina. I feel as optimistic and confident about our future as I did in 2004, and I know we have the team to make it happen. These are the best conditions under which to make this kind of change.

Over the past ten months, Irina and I have worked closely every day — forming a strong partnership and a shared vision for the company and how it should be led. We have also been fortunate to have the support and guidance of a smart, dedicated Board of Directors. Together, we have had a thoughtful, transparent process in preparing for this transition.

Many of you know Irina. She is an exceptional leader — passionate about our business, committed to our culture of excellence and our values, experienced in the areas that are critical to our success. Beyond these essential qualities, Irina holds a deep respect for CareerBuilder's history and heritage — for the strong foundation we've built and amazing things we've accomplished together that enables us to evolve moving forward. I know you will extend Irina all the support and comradery you've so generously given me as your CEO.

It has been one of the greatest honors of my life to work with everyone who's been part of our CareerBuilder team. I am so proud of the things we've accomplished together – far too many to recount in one email. Our work has changed an industry. Today, we are poised to do it again. You have the grit, passion and talent that a transformation like this needs – that the company needs.

Thank you for all you do every day to help write the important and exciting next chapter for CareerBuilder.

Matt
"I'm very proud of what we've accomplished as a team," Ferguson said in a release. "For nearly 25 years, CareerBuilder has been instrumental in transforming the HR industry. We led the way in online recruiting, and now we offer our customers a single destination to help them find, manage, screen and onboard talent.
"CareerBuilder has served millions of job seekers, employees and businesses worldwide — and we've built a strong and enduring culture that is poised to disrupt this industry again. With Irina assuming the CEO role, we have a determined, passionate leader to take CareerBuilder's strategy and innovative technology solutions to the next level, and continue helping people and businesses succeed in the new world of work. All the pieces are in place, and the time is right for me to transition the CEO role and continue to serve as Executive Chairman."
Under Ferguson, the company says it grew from 16 million unique visitors and 400,000 jobs per year to 200 million unique visitors and nearly 8 million jobs globally last year. CareerBuilder now serves 90 percent of the Fortune 1000 and has expanded into 185 markets globally.