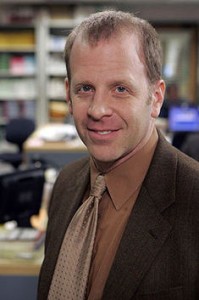 We pause now, before beginning our workday, before we plunge into this post about Mars and Monster, to pay homage to television's most real unreality comedy show, The Office.
The show's finale aired last night, ending nine years of episodes that anyone who has ever worked in an office, especially a sales office, would instantly recognize as real life snippets slightly disguised. At one point or another, we've all had a boss or known of a boss as quirkly lovable as Michael Scott.
And what The Office  did for — or is that to? — HR, but cast it as the stereotype of itself. Toby, the mild-mannered, accidental HR representative of corporate in the Scranton branch office, will forever be who every viewer of working age will picture when HR comes a'calling. (Unless they think of Catbert, who inhabits the opposite end of the HR spectrum.)
Lament now the passing of a show that illuminated all we loved, or I should say, observed, if not experienced, about office life.
Find Kevin on Monster
While The Office will live on in reruns, we'll all have Kevin around for a while longer. He's the new face of Monster in TV commercials that began airing a few weeks ago. Maybe he got cast because, like the rest of the cast, actor Brian Baumgartner will be looking for work.
Forbes loves the casting, saying "the fact (Baumgartner's ) character on the show hated his job more than anyone is strategic perfection from a casting standpoint."
Really? I loved Kevin as much as the next person, but there is no way I'd have hired him, let alone kept him. Just in case the finale got you all misty-eyed and soft, Kevin was a malingerer, who did as little work as possible, and was not the sharpest pencil in the accounting department.
Note to talent acquisition leaders: If you want to hire someone like Kevin, go to Monster.
Productivity Gets You Cocoa Coffee From Mars
Here, just as it was written, is the announcement of a kind of contest, from the same people who make Snickers and M&Ms:
To honor companies that exemplify what it means to be productive and whose leaders and employees always run "full steam ahead," Mars Drinks, a business unit of Mars, Incorporated, is now accepting nominations for its STEEL HORSE™ Coffee's Engines of Productivity Award.

The Engines of Productivity Award is one of a series of events planned to promote the launch of STEEL HORSE™ Coffee, the first and only hot drink that combines the benefits of coffee with 150 mg of circulation-supporting cocoa flavanols.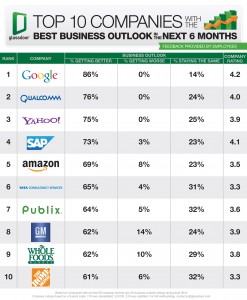 I am now beside myself with excitement and with the help of a handful of M&Ms pumped to go enter.  Somehow it's sort of fitting that the press release came from MSCO, that on its homepage prominently tells you to "Download Your Marketing Sucks."
Google Gets the Permanent Cup
No wonder Mars didn't make it into Glassdoor's top 10 list of Companies with the Best Business Outlook. On the other hand, can we just all agree to give Google the permanent cup for being "Best At Everything" and give some other company a chance to be #1 at something?