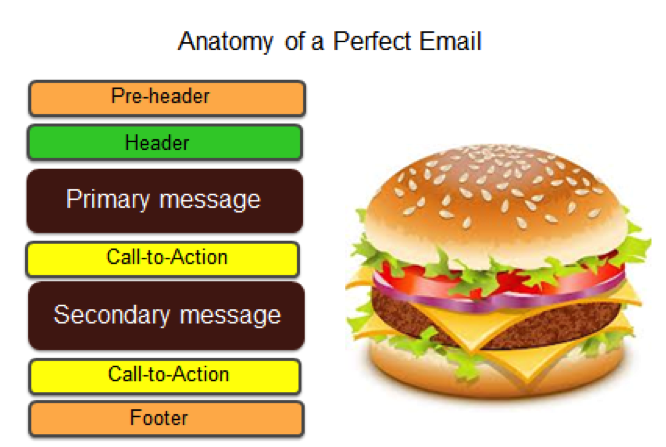 Despite the multitude of new communications channels employers can use to connect with talent, email is still one of the best ways to reach them. But to do so most effectively — in terms of attracting and building relationships with the best candidates — recruiting teams can learn a lot from their marketing counterparts.
Just consider the parallels: While marketers are concerned with finding new customers, recruiters need to find new candidates. Where marketers drive the corporate brand, recruiters drive the employer brand. And, as marketers build lead databases, target and re-engage customers, and work to make the sale, recruiters build talent pipelines, seek to continually engage talent and encourage them to apply.
Marketers have long known that email is one of the oldest yet best-performing digital marketing practices. Although the rise of mobile devices has brought significant change to the way we communicate, checking email still remains a top priority for most individuals. Overall, 91 percent of smartphone users say they read emails on their mobile devices, and 53 percent of emails are now opened on a mobile device.
What can be done, then, to improve the process and ensure those recruiting emails are successfully delivered, opened, read and clicked through? The key is to take a page from the marketing team and incorporate the following five best practices for recruitment email marketing:
Subject Lines that Pack a Punch: More than a third of email recipients open emails based solely on the subject line. Referencing the location in which you're hiring, including the company name so recipients know who the email is from and adding a call to action, are all strategies to optimize the subject line. Using questions, like "Are you XYZ Company's next hot programmer?" will also help to drive engagement. Conveying a sense of urgency, by stating "Check out our new openings in March," will give recipients shorter time to act and thus spur them to take action immediately. Brevity is also crucial — so make sure your subject line is succinct!
Design With Action in Mind: The structure of an email has a definite impact on performance. It should be comprised of distinct layers that each serve a different purpose, including:
Pre-header: As this appears next to the subject line, it plays a big role in helping recipients determine if they will open the email or not.
Header: This should consist of the company logo, and any other information that will be useful for subscribers.
Primary and secondary messages: Introduce your company, promote a new opportunity, or encourage people to sign up for an upcoming event. Each primary and secondary message should have a clear call to action, coded in HTML and easily clickable on a mobile device.
Footer: The end of the message should include links back to the website and social media profiles.
Think of it like a cheeseburger (see graphic above); there are distinct layers, each with their own purpose and flavor that when stacked on top of each other, present something in which the sum is greater than its individual parts.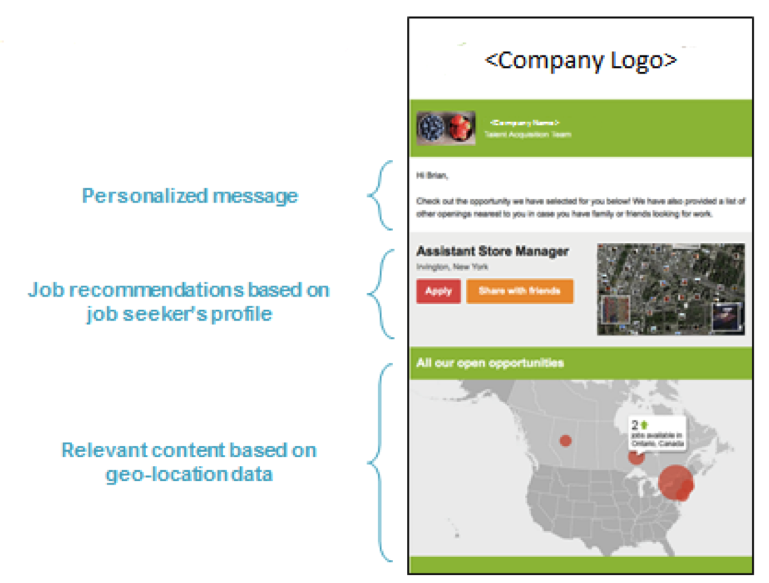 Develop brand through personalization: An "approachable" brand is crucial when engaging with talent. Emails can be personalized to include the recipient's first name and present job recommendations based on their candidate profile (such as positions in which they've expressed interest previously or opportunities based on their location). The email itself should come from a person within the company, introducing themselves and what they're looking for. In addition, companies that use personalized subject lines see and open rate increase of 22.3 percent.
Success through audience segmentation: Sending everyone in your email database the same messages is not the best strategy and will result in low open rates, a higher number of unsubscribes, and numerous spam complaints. Instead, it's a good practice to send different messages to different segments, based on job interest, active or passive candidate status, and location.
In marketing, segmentation is all about matching the right buyer with the right product, and in recruiting, that means matching the right opportunity to the right candidates. The best way to do this is by reviewing past email performances and profiling the highest respondents. Such segments could be based on demographics, traffic source, type of content viewed, interest level, and platform or device.
Leverage email automation: Transactional emails, or those triggered and delivered based on actions by the email subscriber, have an open rate of between 45 to 55 percent, compared to around 10 percent for generic company newsletters. After someone provides their email address to join your talent community, schedule automated emails to remind them to complete the profile or upload their resume and send job alerts inviting them to consider relevant opportunities.
To get started, consider using welcome emails when someone signs up for your job seeker email list. Studies show that new subscribers are most engaged within the first 48 hours, and an automated welcome email will help you reach them in that crucial window of time. Send re-engagement emails to those who have joined your talent network but haven't completed their profile or searched for jobs in months. Automated emails can help to steer them back to the company and consider its opportunities.
Taking a Page from Marketing
The roles of recruiter and marketer are very similar. Adopting the same strategies the marketing team uses to attract customers will help to enhance the employer brand, deliver more useful information to candidates, and build talent pipelines. It's time you put the "marketing" back into recruitment email marketing?