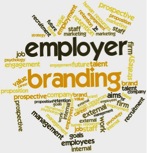 Is your company or category going through a major transformation?
Are you in the midst of launching a new consumer brand promise?
Do you have trouble articulating your employment story to candidates?
If you answered "Yes" to any of the questions above, you may want to consider re-evaluating your current employer brand. Here's why.
Employer brands were once thought of as simply defining an expectation between employee and employer. But today, the employer brand plays a much bigger and more vital role within organizations and in driving their futures. It informs the guest/customer experience, aligns employees and candidates with your purpose and business aspirations, and it distills your employment offering into simple, actionable, and easily understood language so everyone can contribute. It's inspirational, empowering, and unifying.
If you are going through a major transformation within your organization, a shift in mindset, behavior, culture, and direction may be at play. If that's the case, employer brand can play a pivotal role in defining the new employee expectations and aligning them with the business focus. The employer brand can be used to enlist brand ambassadors contribute to building the new culture, engage customers, reward internal performance, share, and mentor others.
If you have a new consumer brand promise to launch, don't forget that's a promise to customers, not employees. This consumer brand requires translation for your employees so they understand how to deliver on the customer experience. And you need to consider how that translation lives and breathes in the halls of your workplace, how employees treat each other, and the opportunity and potential that exists for them.
For those in talent acquisition and HR communications who are frustrated with their current careers website, social media, student recruitment communications, and more, as it doesn't tell any clear story about "why candidates should work here," you may want to to re-evaluate your current employer brand. A clear story should be at the top of the pyramid informing the channels, experiences, and programs you implement. By leading with your employer brand story and letting it drive the conversations and experiences you have online (and off), you'll attract the candidates you want most. The story will resonate with their values, aspirations, backgrounds, and desire to make a contribution.
No matter where you are in your employer brand journey, be sure to include your audience in everything you do. Involve them. Enlist them. Empower them. Give them the opportunity to participate, define, share, own. Nothing makes employees feel more valued than being active contributors in your success and further believers in the cause.
Some of the Related Conference Sessions at the ERE Recruiting Conference in San Diego:
Transforming Your Employer Brand in the Face of Extreme Challenges,
Wednesday, April 23, 3 p.m.
Recruiting Across Multiple Brands or Businesses: Implications for Your Recruiting Department, Wednesday, April 23, 4:15 p.m.
Recruiting for Fit with Corporate Culture, Thursday, April 24, 3:15 p.m.