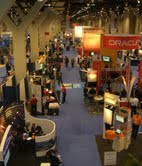 HR Tech, one of the coolest technology shows for HR people, opens in Las Vegas Monday. As is always the case, all the biggest vendors and many of the smaller and specialty exhibitors have been releasing — or are readying for the show — new products, updates, or applications.
I've had a few briefings, and gotten plenty of PR about what's to come. So far, no moon shot, but there are some slick new releases. Mobile apps seem to be high on the list, followed closely by improvements in service integrations, SaaS-based tools, and even a few new entrants, who promise a better mousetrap.
In advance of the show, Lumesse, the former Stepstone Solutions, introduced a mobile app for its TalentLink recruitment management software. Lumesse Mobile is available for customer smartphones or tablets in the Android, Apple iOS and BlackBerry app stores.
The company says the app is "optimized for both slow and fast mobile connections and designed to deliver an individual, highly-personalized, enjoyable user experience with data and functionality specific to the role of the user."
Achievers Still Loves Rewards
The company formerly known as I Love Rewards renamed itself in September. It's now Achievers, but it still specializes in employee rewards and social media recognition programs. It also relaunched its website.
That's big news for any company, (just ask SHL, which had been SHL/Previsor since the merger in January, but has now dropped the Previsor). However, Achievers made bigger news this week with the announcement of a $24.5 million C-series financing round. It was lead by Sequoia Capital, with participation from its existing investors.
The announcement says the company will use the money to "scale our culture, partner with more customers and execute on our mission." Fortunately (at least for we HR Tech attendees), they'll spend a few dollars on a reception they're sponsoring jointly with Jobvite and Starr Tincup Monday night at the Mandalay Bay.
TalentWise
The assessments and screening company TalentWise, winner of a boatload of awards just this year, spent the summer launching several new products including TalentShield,a resume verification service, and an automated I-9 solution. It also has new social media screening solutions.
To make sure everyone knows who it is and what it has to offer, TalentWise has launched what it calls TalentWise Across America.
That does it for the HR Tech connection. However, there are a few other announcements, entirely unrelated to the show.
Resoomay
No, this is not a really bad misspelling of the word resume. It's a new company, launching in public beta. You use resoomay to screen applicants using customized pre-recorded interviews.
Avue Adds Social Media to Fed Jobs Postings
Avue Technologies Corporation, a talent acquisition and recruitment management vendor to federal agencies, has added a social media job posting capability. In addition to posting jobs to over 1,600 .edu and .org sites, Avue can now push federal government job information to Facebook, LinkedIn, and Twitter.
Note: Todd Raphael, ERE's Editor-in-Chief contributed to this post.