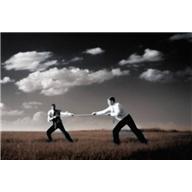 Most corporate recruiting departments struggle to fully support the recruiting needs of their organizations. This is not to say that there aren't strong recruiting functions or recruiters on the corporate side, but corporate recruiting does struggle with an image issue that is at least somewhat deserved. A couple weeks ago I published an article that stirred up conversation between corporate and third party recruiters, so I thought I'd follow up with a more detailed understanding of the corporate recruiter's role. This perspective should be beneficial for some agency recruiters to understand why their corporate recruiting counterparts sometimes struggle to fill openings, and also suggests what corporate recruiting leaders should be fixing. 
Requisition load — Most corporate recruiters cover between 20-40 openings, with some supporting up to 100 positions. As a result, recruiters don't have the opportunity to spend the quality time recruiting that they would like. A recruiter can't effectively and proactively support 40 openings.
Incentive structure — Incentive pay on the corporate side does not reflect the impact that a top-notch recruiter can have on an organization. As a result it becomes nearly impossible to attract top agency recruiters to the corporate side. With financial incentives (bonuses) not closely tied to results (hiring top-notch candidates more efficiently) companies will always struggle with recruiter motivation. Said another way, good recruiters are worth every penny they earn. Corporate recruiters are typically eligible for annual or quarterly bonuses, so the timing of the reward is not closely aligned to result. Several corporate recruiting departments have implemented scorecards to create differentiated compensation for their top performers; however, they need to move more closely to a pay-per-hire model in order to get the results they want. Unfortunately much of this tracking is activity-focused and not results-focused. If corporate recruiting departments could implement a similar compensation structure as agencies (lower base salary, higher bonus structure), they would definitely reap the benefit. And in the end, organizations would hire more top talent at a lower cost per hire.
Recruiter skill set — Corporate recruiting leaders have got to get to a point where they aren't seen as just another HR function. Good recruiters, typically, are not the best "HR people" because they like the hunt and financial rewards that go with finding the best people. Typically this is not the mentality of a good HR generalist who is typically very process-focused. Once dedicated recruiters are compensated appropriately, developing/growing recruiters becomes a much easier task. They will see that the top paid recruiters are also the ones who are best at cold calling, networking, closing the candidate, salary negotiation, etc. and will seek development opportunities out for themselves. Most training dollars are wasted on recruiters who simply don't have the time or motivation to change their recruiting approach.
Poor recruiting process — Too many corporate recruiting departments are still built around post and pray. I don't think it will come as a surprise that a lot of c

orporate recruiters 

post their positions and simply phone screen those who apply. Given the requisition loads it's understandable why many corporate recruiters take this approach. Clearly this approach does not garner top talent, but it also provides the greatest opportunity for third party recruiters to add value. And the area that recruiting leaders must address immediately.
Distractions — Corporate recruiters are tasked with a lot more than just recruiting. They may be pulled into overflow HR "stuff" (employee relations, open enrollment, compensation studies, etc.) that takes time away from their core responsibility. As long as corporate recruiters are tied to the HR function, they will be pulled in as HR pinch hitters. Additionally, corporate recruiting departments have a lot of reporting that they must commit time to, including corporate/departmental reports, OFCCP, EEO audits, and in many cases internal audit. These reports are time killers. Recruiting functions work best when they are supported by a dedicated administrative assistant to handle the details (offer letter creation, interview scheduling, paperwork, input in HRIS, etc) so recruiters can focus their time on actually recruiting.
In closing, don't interpret any of this article to say corporate recruiters don't work hard. Most of the ones I know do truly work hard, but they don't have the recruiting skill set, motivation, and focus (see points above) to truly be successful to the degree their organizations need them to be.
In full accountability, a good part of these challenges are created by the recruiting function (or at least recruiting leadership) itself. We've not been able to provide enough on the value proposition side to say "leave us alone" when it comes to HR distractions. We've also not been able to create appropriate compensation structures to attract and retain the best recruiters in the market. I'm not completely sold that recruiting should be rolled into HR at all.