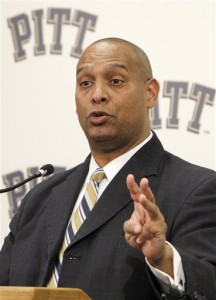 If you're a sports fan (okay, even if you're not) chances are you've heard about the University of Pittsburgh's newly hired head football coach, Michael Haywood, being arrested on domestic battery charges on New Year's Eve. He was later fired by Pitt, after serving just over two weeks as the head football coach.
What you may not have heard is that the search firm responsible for finding Haywood, Parker Executive Search of Atlanta, GA, has accepted responsibility for the recommendation for Pitt to hire Haywood.
Parker Executive Search is a global retained executive search firm that works primarily with intercollegiate athletics programs, leading colleges and universities, Fortune 500 corporations, privately held startups, and non-profit organizations.
Background checks and numerous interviews were conducted before Pitt settled on Haywood. Dan Parker, President of Parker Executive Search, said that he "went back through the checklist and found there wasn't anything different we could have done on (Pitt's) behalf…It was one moment in a person's life, nothing historical we found that indicated this would occur."
So as recruiters, where do your responsibilities end and the employer's (and in this case, the employee's) begin? When do you stop being responsible for the actions of your candidates? If you offer your clients X-day guarantees of service, then obviously your responsibility ends after that guarantee expires. But what about in this case, or in any case of unprecedented criminal activity?
There are three obvious participants who could have prevented this bad hire:
The recruiter: Parker Executive Search was ultimately responsible for the recommendation. But they appear to have been extremely thorough with their background investigations into Haywood prior to making that recommendation.
The client (Pitt): According to the article, Pitt's athletic director, Steve Pederson, did indeed do his own background checking on Haywood. They supplemented their search partner's efforts with their own to make sure they were making the right decision.
The candidate: Did he have a history of violence? None of the background checks seemed to indicate so. It was most likely an isolated incident. Therefore, he would have had no cause to disclose any prior altercations.
Recruiters, I do not know the answer to this one. What are your thoughts? Should Parker Executive Search take the blame for this one? Or should Pitt? And what about Haywood's part in all this? Share your thoughts below.
Incidentally, Pitt  decided to use Parker's company to assist them in finding Haywood's replacement (who ended up being former Tulsa head coach, Todd Graham), indicating that a valued and trusting relationship exists between them.