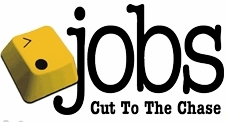 Regular readers of this roundup, and of ERE, will be so very not shocked to know that there is a new website calls itself the "eHarmony of talent."
But before we get to the love, we turn to the latest installment in the epic saga we call .JOBS, or, if you prefer, Dot JOBS.
To  refresh your memory and bring you up-to-date, this is the story of how .jobs, an Internet extension like .com or .net, became the focus of an international legal dispute when the wholesaler of .jobs addresses began to lend it out to DirectEmployers Association, which uses it today for its job board universe. That wasn't the intent back in 2005 when SHRM and Employ Media (the for-profit registrar/wholesaler) when they partnered up to convince the Internet Corporation for Assigned Names and Numbers to create the new extension.
After much controversy, ICANN issued a notice of breach of contract, and the legal battle began. The .JOBS Charter Compliance Coalition, a party of interested job boards, industry groups, and others opposed to how the .Jobs extension is being used, has been pushing ICANN to move along the process of resolving the issue.
In March, the International Court of Arbitration finally appointed a third, and final, member of the hearing panel. So far though, no hearing schedule has been posted.
This lack of public information and slow posting of documents prompted the coalition to demand of ICANN that it comply with its own transparency policies and make available on its websites emails, correspondence, and legal briefs, exhibits and the like connected. And the Coalition wants to know when and where the arbitration hearing will take place, and a few other things, too.
In a parting note, the Coalition asked that its letter be posted online. So far, ICANN hasn't, so we have here.
Never Say Never
If you've never seen "Never Work" before, it's because it's brand new. The team is still rolling out features and tweaking the front end of the site. Check out the site and you get the gist — candidates are asked questions about whether they have a wild imagination, get upset easily, prefer order or disorder, are creative, and more. That's all matched to the personalities of successful employees in high-growth jobs.
The project is currently self-funded by two co-founders, but they will look at other sources of money later.
Love Is in the Air

OK, back to that "eHarmony of talent" we mentioned above — it's called Whitetruffle. Right now, it's focusing on engineers in San Francisco and New York. About 5,000 engineers and about 200 employers are signed up. The two parties are matched using a special algorithm, and like eHarmony, it's anonymous at first. When a candidate is told someone want to "get to know them better," the candidate can agree to share their identifying info with the prospective employer. If a candidate has a special type that turns them on, they can put the word out. Romantic, eh?
More Harmony
Speaking of eHarmony, the makers of that site, perhaps enamored with everyone saying they want to be the eHarmony of talent, is apparently creating … drum roll please … an eHarmony of talent. The eHarmony folks are calling it Tidepool; they also say they are "working hard to launch a new site that's going to revolutionize the working world." Forbes says this:
There are 60 work types, each with a unique title (i.e. Sagoo is "The Maverick;" Buckwalter is a "Freeverse Poet"). The assessment works like a game in which users choose certain photographs over others and activities they would prefer over others (i.e. a biology class versus painting, working outside versus inside).
Tidepool's creators told Forbes they "are hoping that Tidepool will help companies hire employees that fit within their culture … better teams, better workplaces, better one-one-ones."