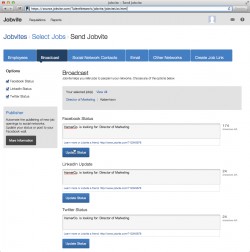 An IT recruiting tool. An internship community. A new branding/careersite company. A video interviewer.
A website for "challenges" students can take, leading to a job.
And, two big new launches from the applicant tracking company Jobvite.
All below.
Madgigs is a new "online reputation ranking platform for the best in tech." Started by an IT recruiter, Madgigs ranks people based on both hard skills and soft skills.
You may not have heard of InternshipKing. Founder Ted Williams says "I tell people who aren't in the industry that we're the 'TripAdvisor for Internships' — but, we're basically the Glassdoor for internships." It had a slow start but is now growing in interest (traffic). There are more than 700 internship program profiles and 3,900 intern reviews/salaries.
MindSumo is a new site, in beta, where students solve challenges, and can get a job or internship.
Interview Rocket, combining video with interviews, got 250k.

Out of Milwaukee comes The Good Jobs. (Not to be confused with Goood Job.) It's a new marketing platform — a "culture directory," the company says. Companies use it to put badges on their websites highlighting aspects of their culture like Fun, Green DNA, Flextime, Extreme Perks, and Inclusion. The Good Jobs has two full-time partners, two part-time employees, and is funded by a couple of Wisconsin investors.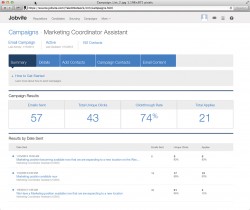 I'm sure you have heard of the applicant tracking company Jobvite (a company whose CEO Dan Finnigan says is already "having record sales quarters.") It's launching two new things, one called "Engage," pictured here, and another called "Refer," pictured at the top of this post.
Engage is a CRM system, a year in the making, where you collect profiles of candidates over time, even if you don't have a specific job open. You use it to do things like quickly take people you find online and import them into the database; schedule posts on Facebook;  send out email campaigns to subgroups (like a note to all the Berkeley undergrad engineers); send personalized tweets to people in the system; and track success (aka analytics/reporting).
As far as "Refer" goes, it is what the name implies: a referral-program tool. It's similar to what Jobvite has done in the past, with some added features, but, like Engage, can be bought separately now if you have an applicant system other than Jobvite's. If you buy the Jobvite applicant tracking system, it comes with the capabilities of Refer.