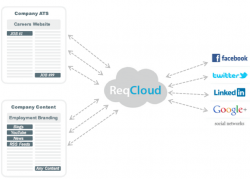 Social media, employment branding, an employee-assessment company, a new tool you need to know about for using applicant tracking systems, and a job site focusing on screening for fit.
It's all below.
Let's start with Reqcloud, which launched about six months ago. "Nobody really knows about us," says founder Ivan Kedrin.
I'm thinking you should, as this one may be around a while.
Recruiters pay to have Reqcloud pull "content" from applicant tracking systems and elsewhere and spread it to social media sites like Google+, LinkedIn, and Twitter. The content includes job listings but also things like blog posts, videos, company news, and more. So ReqCloud is billing itself as both a social media tool and a branding tool.
Once a candidate clicks on a job they're interested in, they can view the description on a web page with other company information, like videos and news — far less boring than what you often get after typically clicking on a job description. Also, for those proverbial passive candidates, they can click on a little apply-with-LinkedIn option to put their info in a sort of CRM system; the recruiter then captures them without having to say "we're interested in you, so go build a resume, take an assessment, fill out an online form," and so on.
"We've patented the heck out of this thing," says Kedrin, whose wife is a recruiter. Reqcloud is being incubated from a larger (20-employee) New York City company.
Also:
Keep your eyes on JobSync, the startup with that "matching" tool you heard about in May. I'm not sure what'll happen with its matching thing, but JobSync is working on a new project, and it's on to something. Called "Simplicity," the tool is an overlay onto your applicant system that makes it more user-friendly to search for people in the ATS, or see what stage someone is in (like whether they've interviewed yet or not). The goal is for recruiters and managers to interact with the ATS without training, avoiding the work-arounds, some involving Excel and Outlook, that many companies use to better stitch together their systems. Sure, I've written on ERE.net about a few startups with visual, user-friendly applicant tracking systems (thus negating the need for a separate tool like Simplicity), but CEO Danny Simon is aiming for clients of the big systems that large companies use and often complain about. Other tech companies have built Salesforce.com tools, but "it hasn't happened in the ATS community for some reason," says Simon. Three companies — well-known ones you've seen speak at ERE events and win ERE awards and such — are taking a look at the system; a pilot begins around late January and sales should begin next spring. I asked Simon if, after this, the company would work on a system for candidates to better navigate applicant tracking systems that power career sites. That's next, says Simon. "The ATS companies were never user-experience companies."
Remember Bright? It's launching a new free tool today called the "Bright Score Calculator." The calculator uses the "Bright Score" but differently. If you haven't used Bright, for example, you can try the technology by uploading resumes you have on you (not the ones from Bright) and score them. The score looks at employment history, school data, and other factors, like synonyms of keywords.
Cream.hr has been having applicants take tests, about 20 minutes and 45 minutes long, for almost a year, but now it has officially launched. It bills itself as "anti-resume" and measures intelligence, personality traits, entrepreneurial skills, drive, and more. Cream has six employees and is based in San Francisco and Toronto. It is self-funded but is talking to investors about raising $350,000.