An effective diversity recruiting strategy isn't only about which job boards you subscribe to or the candidate discovery/rediscovery tools you use. It's not necessarily about your applicant database or the presence of a "diversity sourcer" that makes the difference. At the executive level, a diversity-referral program and diverse interview teams can be effective, but only if you have a diverse executive team in place to make these strategies impactful. These strategies look great on paper but have little chance of sustainability without strong fundamentals in place to support success.
A comprehensive diversity recruiting strategy is less about a quick and immediate impact and more about perseverance and influence. It's about leader advocacy, organizational patience, and an executive recruiting process that is built with a mindset for diversity at its core. Focusing on the less tangible elements of diversity recruiting will strengthen the fundamentals and help support a more comprehensive diversity recruiting strategy that is sustainable over time.
To support growth and sustainability, there are three components essential to any diversity executive recruiting strategy. (See image.)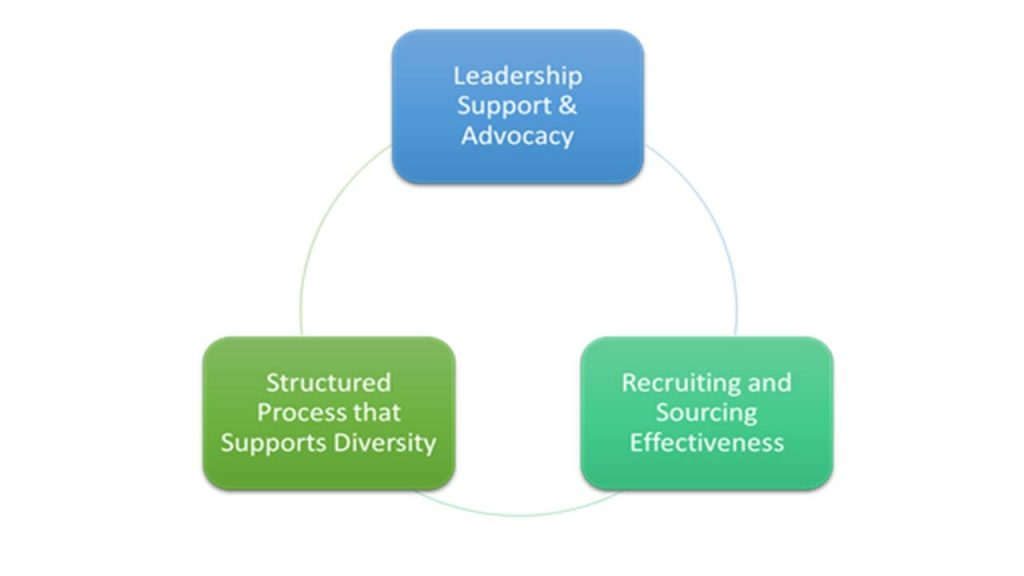 Organizational Leadership & Advocacy
Most importantly, an effective diversity recruiting strategy requires support and advocacy from the executive leadership team. Leaders should share with their extended team that increasing diversity is a strategic priority to which they will hold themselves and others accountable. The recruiting team has an opportunity to work with business and HR leaders to define success and develop recruiting strategies that can have a positive impact on diversity. Communication from leaders to their teams related to the new strategy will provide a platform for the recruiting team to reinforce leadership expectations throughout the process.
Leader advocacy is even more critical given the time and patience required to consistently recruit a diverse slate of qualified candidates. During my career, I've not come across an executive role (or any role for that matter) that didn't need to be filled immediately. This urgency, although important, can cause hiring managers to focus on how fast they can fill a role, rather than developing a qualified and diverse slate of finalists. Having a diverse slate of candidates in the interview stages means having a highly qualified and diverse slate of candidates at the top of the funnel. This requires a thorough search strategy that focuses on active job seekers as well as passive talent. Building a diverse candidate pool at the top of the funnel will inevitably add to the total time to create a robust candidate pool, which requires patience, advocacy, and support from leaders.
Structured Process Built Around Diversity
Diversity recruiting is often a collection of individual efforts or tools not linked to a larger, more comprehensive and coordinated diversity-centric process. Unfortunately, the executive recruiting process can often be influenced by the hiring manager and their individual preferences. Other than the calibration session, online application, and the offer and onboarding, there may not be a lot of process consistency. Prioritizing diversity at the core of your process means developing certain milestones throughout the process linked to your diversity recruiting strategy. Some of these process gates could include:
Funnel Guidance
According to an April 2016 HBR study, "If There's Only One Woman in Your Candidate Pool, There's Statistically No Chance She'll Be Hired," you significantly increase the likelihood of hiring diverse talent if at least two gender or ethnically diverse candidates proceed to the interview stages. Partner with key stakeholders to agree on the depth of diversity required on each candidate slate, before moving the recruiting process into the interview stage. 
Diverse Interview Teams
Candidates view the interview process as a window into the organization's culture and business priorities. Use this opportunity to demonstrate that an inclusive and engaging culture is a priority by diversifying your interview teams.
Bias
Unconscious bias (and unfortunately conscious bias!) plays an active role in hiring decisions. During my career, I've witnessed both unconscious and conscious bias. Both are difficult to control during the recruiting process. In a complex system, a culture will try to protect itself by eliminating those who do not comply with organizational norms. When collecting feedback, how often have you heard "they just wouldn't be a fit." Diversity of thought through a diverse workforce is essential to establishing and sustaining an adaptive, innovative, and fast-moving organization. Make interview team members aware of how unconscious bias can impact the hiring process. Short videos or training modules distributed to the interview team prior to the interviews can be an effective tool against unconscious bias.
Succession Planning
As discussed earlier, diversity recruiting at the executive level requires time and patience. Closing the gap between executive recruiting and the succession planning process will significantly improve your ability to identify and engage diverse talent. After each executive talent review, meet with senior leaders to understand where there is anticipated gaps in the availability of internal talent. After prioritizing talent gaps, begin mapping external talent, ensuring a diverse pipeline of prospective and pre-engaged talent.
Recruiter Effectiveness
An executive recruiter's ability to identify and engage qualified diverse talent is just as important as a structured process. This competency is a critical differentiator between selecting from the best talent that the market has to offer and selecting only from the best talent that makes themselves available to you through a traditional posting process. That's not to suggest you won't get good talent through the posting process, but casting a wider net enables you to make the best decision from a larger pool of diverse talent. Executive recruiters need to be comfortable developing and implementing diversity recruiting strategies that target active and passive job seekers. This includes mapping a diverse pool of prospective candidates and then effectively promoting the opportunity and the organization to those prospective candidates.
The executive recruiter role is not easy. It requires confidence, strong communication, and collaboration. Executive recruiters need to be consultants and advisors, as much as they need to be recruiters.  They must navigate protected relationships, as well as advocate for organizational priorities, such as increasing diversity representation. To be successful, executive recruiters manage tough conversations and an infinite number of variables. Above all else, executive recruiters who excel at diversity recruiting have an innate passion for increasing diversity in the workplace. Those with passion advocate a little stronger, recruit a little harder, and truly invest themselves in making a difference.