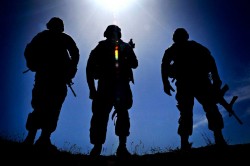 "I was in the wrong place at the wrong time."
That's what former U.S. Marine Sergeant Tanner Horsley recalled of the incident while deployed that resulted in severe injuries and thus ending his promising military career. Since his medical retirement from the Corps, Horsley was uncertain of his professional future. He had been expecting to make the USMC a career like family members before him.
He is not alone in his thoughts. Every year, 160,000 military veterans are discharged from service; 15,000 annually in San Diego, making the region home to the nation's largest number of veterans returning from wartime duty. For Horsley, and a group of young veterans, we helped answer the uncertain questions about their immediate future by accepting them to the Qualcomm Corporate Integration Program for Warrior Veterans.
Developed by Qualcomm and supported by the Space and Naval Warfare Systems Command, QCIP-Warriors is an initiative created to help wounded warriors and military veterans as they move from active duty to employment in the civilian world.
Our mission is to assist our warrior veterans with corporate exposure and hands-on technical experience and empower them through professional development and integration. We have worked closely with SPAWAR and other military organizations on QCIP these past few years to ensure our veterans have the resources they need when they leave the service.
For the fifth time in two years, we have sponsored the twice annual, eight-week corporate integration program, with the assistance of internal volunteers and the local military community. The effort is designed to reach out to veterans who are transitioning into the civilian world, some of whom have sustained either physical or emotional injuries as a result of their deployment. The paid, part-time program is regimented yet flexible in that some of the veterans may be actively transitioning from the military and still attending ongoing appointments, counseling, or treatment. The program combines technical work experience with professional and career transition training plus dedicated mentorship and coaching.  Each "warrior" is paired with a Qualcomm employee who is also a military veteran and serves as an example of successful transition from the military to the corporate world.
Giving back to the community is a part of our corporate culture. In fact, every May is our global month of volunteerism in which the company allows its permanent employees worldwide the opportunity to volunteer up to four hours to make a positive impact in their communities. For some like Lisa Settlecowski in our Corporate Procurement and a former Marine herself, volunteering for QCIP-Warriors since 2011 has been a tremendous experience. "I'd been looking for ways to give back in the community when I heard about the QCIP program," she told me. "It was so perfect for me because I got to use my experience as a Marine to help those transitioning out and I didn't have to leave my workplace to volunteer."
How it Works
Twelve to sixteen military veterans are selected for each rotation and assigned to various departments matching their technical backgrounds, skillsets, and professional career paths. As Qualcomm is an engineering and technology company, a majority of the positions have been in engineering support, technical testing, plant operations, and IT. But the program has also sponsored a number of Warriors in HR, legal, logistics, procurement, safety, and project management. In addition, they also participate in weekly professional development training and assessments as well as career transition workshops such as networking and job search skills, resume writing, and interview preparation. This added training provides the veterans with real corporate perspectives, insights, and feedback. Social and networking events are also scheduled throughout each rotation and have included Qualcomm's CEO and other senior executives. To date, 79% of QCIP-Warrior participants have found full-time employment or internships at the end of their respective programs.
For Horsley, his professionalism and positive attitude paid off. QCIP-Warriors is not intended to be an employment program for Qualcomm, but at the end of his rotation he was hired on as a Release Engineer, Associate. "I still have a hard time believing that a typical Devil-dog like me made that jump to full-time employee here after being discharged just eight months ago … most of the young Marines I still talk to don't believe it. All thanks to the QCIP-Warriors team."