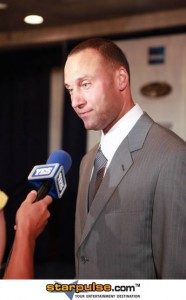 There couldn't have been a more perfect scenario for Derek Jeter on Saturday, July 9, against the Tampa Bay Rays. In the third inning on a full count, Jeter got his 3,000th hit on a 78 mile per hour slider, knocking the ball out of the park. But he wasn't done yet. Jeter finished the game for the Yankees 5 for 5 with a game-winning hit.
I was on the edge of my seat on hit 2,999. I've witnessed lots of broken records and new milestones in sports throughout my life, but this one was special. Jeter has something more than just sheer athletic ability.
True star athletes have more than just physical talent. They possess the confidence and inner fire that pushes them to overachieve on the playing field or on the court. These leaders also have the ability to motivate and collaborate to drive their teams forward and win.
In fact, over the past five decades I've found that sports and business align in many ways. With Jeter's recent accomplishment, it's easy to see how a top-performing athlete and his team can be role models for others aspiring to that same level of greatness. Throughout Jeter's career — his massive wins and some shortcomings — there are countless lessons that directly apply to the boardroom.
So what gives Jeter that edge that transcends the sports arena? How has he been able to lead his team to victory again and again? And most importantly, what lessons can business leaders take away from his success?
There's no "I" (or "Me") in "Team"
As cliché as it sounds, it's never about you — in sports or in business. Every little win is a combined effort. Jeter can stop a hit as a shortstop, but if his first baseman isn't in position, Jeter can't get the out. In other words, as a business leader, if your direct reports aren't able to implement the action items inherent in your new strategy, your strategy will go nowhere.
Don't Be Fooled By a Number
Jeter might be considered "old" in the baseball world, but age is no barrier here. Jeter is the eighth-youngest player to reach 3,000 hits and still strikes fear in the hearts of any opposing team. If the motivation and passion for success remains an active part of a person's makeup, age is nothing more than a number. Veteran leaders bring with them institutional knowledge and valuable experience that can be drawn upon in virtually every situation.
What better captain than one who knows the ins and outs of the game? The same holds true in business.
Know Yourself
Self-awareness, for some people, is a struggle. Knowing your defining qualities — and your limitations — can help you tap into strengths and find ways to compensate for weaknesses. ESPN Analyst Dave Campbell once said of Jeter, "He really knows how to work the pitcher and work the count. That's become a trademark of the Yankees and a big reason why they're so often able to get rid of starters by the fifth inning. That's 'professional' hitting."
Jeter is aware of his hitting strength and works it to its fullest potential. Whether it's straightforward communication style or the ability to make quick decisions, good business leaders are also able to recognize where they shine and capitalize on these abilities.
Define Your Success
Every business leader and professional athlete has a different definition of success. Interestingly, of the thousands of people we've interviewed — from CEOs to athletes — none of them defined success in terms of money. Plain and simple, money doesn't buy happiness or define achievement.
Jeter has loved the game of baseball since he was a child, but what's more, his love for the team is evident in how he plays the game. This true passion translates into the big wins Yankees fans see season after season.
There absolutely is a success formula for everyone. Discover what truly motivates you and your definition of success will follow.
Compete With Passion
Jeter once observed, "If you're going to play at all, you're out to win. Baseball, board games, playing Jeopardy, I hate to lose. But at the same time, I don't think you can do well unless you're having fun."
Being competitive is about more than wanting to win for personal satisfaction. It's about passion. Whether this means diving into the bleachers to make a catch or taking a calculated risk to get ahead of the competition, if you don't love what you do, the motivation won't be there.
Looking to the Future … and Beyond a Resume
So, how do you identify who has the potential to become the Derek Jeter of your organization?
Begin by looking deeper, past the resume, into what inspires an individual. Manager Joe Torre once said of Jeter, "The tougher the situation, the more fire he gets in his eyes. You don't teach that."
Successful business leaders must also be able to see beyond experience, age, and previous positions to recognize who would work best in a particular role on your team and at your company.