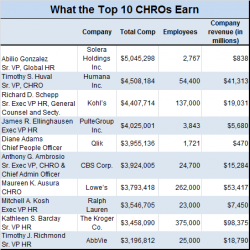 The nation's 50 highest-paid human resource executives saw their average comp package decline by 6.9 percent last year, and that's after a 2012 cut that averaged 6.3 percent.
They may have to cut back on the caviar, but none are in danger of going hungry.
The average comp package of the top HR executives at public companies, reported by Human Resource Executive Online, is $2,478,045.
The list, dubbed HR Elite, was compiled for HRE by Equilar, a Redwood City, California-based research firm specializing in executive compensation. Drawn from the reports filed by public companies with the Securities and Exchange Commission, the comp ranges from the $1.52 million paid to Jeffrey Hughes, the CHRO at Republic Services — the lowest paid of the 50 on the list — to Abilio Gonzalez. CHRO of Solera Holdings, Gonzalez earned $5.05 million in salary, bonus, option, stock, and other payments.
Interestingly, pay for chief human resource officers has little to do with company size or revenue. Republic, a solid waste and recycling company which pays its CHRO the least of the 50 executives on the list, has 31,000 employees and $8.4 billion in annual revenue. Dermot J. O'Brien, CHRO of ADP, edged out Hughes for the 49th spot on the list by less than $500. His company has 60,000 employees and $11.3 billion in annual revenue.
At the top of the list, Gonzalez' Solera Holdings has 2,767 employees and $838 million in revenue. However, the next two on the list — Timothy S. Huval of Humana, and Richard D. Schepp with Kohl's — head human resources for very large companies with many billions in annual revenue.
In calculating total pay, Equilar combed company financial filings with the Securities and Exchange Commission. The company counted base pay, all  bonuses, and the value of stock and option awards as of the grant date. Perks and benefits were not included.
The CHROs on the list earned an average of 33 percent of what the company's top executive was paid, although two made more. Chiquita Brands Chief People Officer Kevin R. Holland, made 119 percent of his CEO's pay, and Thomas J. Meek of Minerals Technologies earned 105 percent.
The average recruiter salary, according to Glassdoor, is $47,500. The average pay for an HR vice president is $177,500. The U.S. Bureau of Labor Statistics says the average annual pay for HR managers is $111,180. The average pay for HR specialists is $61,500.