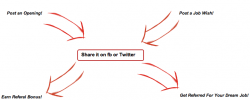 A new "matching" site, a new social media/employee-referral site, and the negatives of stripping.
Yes, it's our regular roundup of recruiting and HR happenings, below.
Social Referrals
We don't want to shock anyone, but there is another new site in the social media/employee-referral genre, with one co-founder in India, one in Boston, both grads in computer science. ProMapr is looking for funds, getting good feedback, but frustrated it's not getting more buzz. Site users earn money for employee referrals, which are shared on Facebook and Twitter.
"We are still learning daily and refining our flow/UI and adding features," says Kshitiz Anand, one of the founders.
He's Baaacckk. Sort of.

It was only a few years ago (not quite three to be specific) that one of the must-reads for recruiters was a newsy, noisy, opinionated blog that went by the name "Cheezhead." Joel Cheesman, its author, gave it a unique voice, rarely failing to skewer industry giants while building the site with a weekly video program, and adding a writer or two. Then, one day, he sold it to a job board, and Cheezhead, the site, was promptly closed.
There are signs, now, that Cheesman is bestirring the stillness. For at least the last few weeks, he's been sending occasional emails commenting on recruiting industry developments. Here's one about the LinkedIn buying Monster rumor:
The thought of a high-growth business like LinkedIn strapping on an albatross like Monster is a bit ridiculous if you think about it for a second. So who, one like me must ask, would buy Monster?

As far as I can tell, the answer is: No one.

Yeah, nobody. John Doe. The invisible man.
Does this mean he's back? Says Cheesman, "I'd go with 'hobbyist' at this point."
The Adverse Impact of Stripping

A society and fashion writer for the Houston Chronicle, fired after her other job as a nightclub stripper got reported in a competing publication, has filed a sex discrimination claim with the EEOC.
The newspaper, says Sarah Tressler, fired her because she failed to disclose her other job on her employment application. She insists it was because the paper was embarrassed. Her lawyer, Gloria Allred, says, "to terminate an employee because they had previously been an exotic dancer would have an adverse impact on women, since it is a female-dominated occupation."
And yes indeed, she is on the part-time faculty at the University of Houston.
More Matchmaking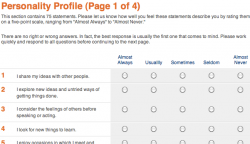 The latest of a very long line of "matching" sites, in the spirit of eHarmony, is JobSync, out of Santa Monica, California. Candidates fill out an assessment (which about 700 are doing weekly now). Using its proprietary matching algorithm, JobSync decides which candidates are a fit for your jobs based on their experience, qualifications, and personality, the latter through a partnership with Profiles International.
It costs $350 per job for a one-off, less for higher volume. Right now, Avery Dennison, Kimberly-Clark, and Office Depot are among the companies trying it out.
JobSync is also looking at selling this as a talent management tool. A company would email its employees, telling them to fill out a profile that'll help them find future internal opportunities. Then that company could send JobSync a job listing; JobSync would look through the profiles, as well as do an external search, and find the best matches.
Worst Practices HR
A lawyer with enough of a sense of humor to do an Elvis impersonation? That's what we think the big news is here. But Mark Toth, Manpower's chief legal officer, sees it as a teaching opportunity. Either way, here's a look at a not-as-far-fetched-as-you-might-think  job interview. There are, Toth says, at least 50 errors (not necessarily EEOC issues) occur in the video below. Here's a hint: Error #1 is not knowing the candidate has been dead for 30+ years. And here's the answer key.
Millennial Hiring
From this week's surveys is one telling us that 91 percent of employers think an internship is essential preparation for college students entering the workforce. Seems reasonable enough. Similarly, says the survey produced by Millennial Branding, 87 percent of employers say an internship should last at least three months for it to be of benefit.
Now comes the money-where-your-mouth-is part: Only 50 percent of employers have actually hired an intern in the last six months.
If you like that little contradiction, you'll enjoy some of the other tidbits. For instance, 98 percent of employers look for "communication skills" when they hire students. Of course. So where do they do their looking for young talent? Pretty much everywhere except social media, which is just where young people spend much of their time.