We revealed how we launched our new EVP in 2016. The message: Bring Everything You Are. Become Everything You Want.  To help us know "everything you are" and ensure you "become everything you want," we needed a supporting vehicle. One such vehicle is assessments — they help us understand our potential talent and how to help that talent reach full potential. More uniquely, we also wanted to explore if automated technology could provide a better overall candidate experience.
SAP is no stranger to assessments. In 2015, we provocatively asked the question: Can an algorithm replace a recruiter? It was one of the biggest and most talked about articles of the year. The conclusion was that technology is there to help recruiters reach the best candidates, but not replace them.
The new assessments we wanted to build married into other key innovative selection objectives we have:
Remove recruiter bias and subjectivity from the selection process
Bring meritocracy to less experienced recruitment
"Democratize" graduate recruitment and move away from the elitism of focusing on a tiny few target universities, embracing graduates from anywhere
Reduce recruiter workload by reducing the number of CVs
Revolutionize candidate experience with instant, valuable feedback
Use Facebook for actual recruitment selection
Bring fun to the SAP Employment Brand
Innovate and revolutionize selection!
The Solution
Three separate assessment projects combined as a whole represents an innovative approach to selection.
Designing new, insightful assessments with real-time feedback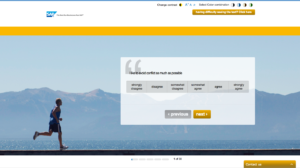 We looked at the current industry model — generally, the industry demands candidates to invest 20-25 minutes of their time navigating a careers site, uploading their CV, typing in details repetitively, only to then experience the comedown of a bounce back email informing them that a recruiter will get back to them if they "have the right skills and experience for the role." In most cases, candidates know their CV will enter the black hole of an ATS, never hearing from that company again. That is a "normal" experience in the industry, but isn't that pretty criminal? Why does the industry tolerate that as a norm?
Computers, AI, and technology strike fear into some recruiters. Traditionalists will say that the "human touch" is lost from recruitment when technology gets involved. But, is that "human touch" felt by candidates when they get that dry bounce-back email? Is that a great candidate experience? More importantly, can technology help us provide an even better candidate experience?
This led us to soul search and ask ourselves the following questions:
Why should candidates not get immediate feedback about their suitability?
Why should candidates not get very detailed assessment feedback about their culture fit and role fit for a job?
Why should hiring managers not get more data on candidates to assess and questions based on that report to ask candidates in their interview, saving prep time?
Why can't a candidate who joins a company on day one not have a training plan ready for them based on those assessment results?
These questions provided the framework for the new SAP culture and role fit assessments, which we have custom-built with our partners at The Chemistry Group.
SAP makes approximately 15,000 hires a year. 5,000-6,000 of those hires are graduates and professionals in the early stages of their career, with one to four year's experience. At this level there is less to differentiate candidates, as their career and experiences are just building. This leaves too much of the decisions of who to hire left to the subjectivity of the recruiter or hiring manager. Assessments allow recruiters and hiring managers to make more informed, accurate decisions at this more entry level of hiring.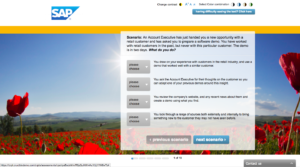 Together with The Chemistry Group, we developed global assessments for selection and development to ensure a smooth approach for candidates, recruiters, and hiring managers from attraction, to application, to onboarding, and in-role development. This allows us to initially attract and recruit the right individuals, and then allows those individuals to own their self-development during their career at SAP. The global nature of the tool drives consistency and allows us to draw meaningful insight and conclusions on a global data set across business functions. Additionally, the joined-up approach allows insight from selection to inform development and vice versa.
So now, when a candidate applies for certain roles at SAP, we can clearly state up front to a candidate that we would like them to do an assessment lasting 20 minutes of their time, but that they will get an immediate answer (real time feedback), and receive a 3/4 page assessment report straight back on their "fit for SAP" and their "role fit."  
Focus groups tell us that candidates respect immediate answers rather than bounce-back emails and the uncertainty of waiting for a recruiter to call them. This assessment report then goes to the hiring manager and helps auto-generate questions for them to ask in interview. Lastly, the assessment report goes to Training & Development to ensure that the new hire, from Day 1, has a ready-to-go training plan. Technology helping bring about true meritocracy in recruitment, so that anyone from anywhere with the right fit and skills can win through and get hired and at the same time enjoy a transparent and revealing candidate experience.  
The customized assessments were built against the SAP global competency framework using data from high performers to measure Values, Motivations, and Behaviors: this is The Chemistry Group's WGLL™ process. This allows us to paint a broad picture of an individual covering cultural fit and prediction of performance. By removing traditional measures, such as academics and experience, we will broaden our talent pool and increase diversity by removing bias. The value for the candidates is in the real-time feedback that they receive on their Values, Motivations, and Behaviors as this helps them to understand strengths and development areas, massively boosting candidate experience.
An innovatory, never-been-done-before Facebook Assessment App
We created a Facebook Application that assesses the user's personality profile "frictionlessly," without the need for the candidate to take a traditional assessment. The Facebook app provides the candidate with a profile of their personality and an indication of what role category they might best fit within SAP (Sales? Development? Consulting? Customer Service and Support?), in a matter of seconds and with only one click, based on their Facebook behaviors. Give it a go yourself here.
Despite the informal and engaging aspect of the application, this is a serious and important tool that will, over time, help to build a more accurate profile of a candidate's values, motivations, and behaviors than we have ever been able to do before, resulting in a significant increase in hiring accuracy. We believe we have achieved a first in building a truly joined up and consistent end-to-end recruiting process that is powered by the same unique WGLL™ profiles for each distinct job family at every stage of the process.
A fun recruitment game that uses assessments on the back end
We will tell you Thursday (10/13) about our "Get Home" recruitment game, a game for any platform/device that engages candidates in fun gameplay in scenarios that demonstrate some of the sectors that SAP play in — sports, entertainment, recruitment, and viral defense. "Get Home" reflects SAP's core business methodology: making the world run better. The game has leaderboards and other competitive game mechanics to encourage sharing on social networks, garnering more engagement for our Life at SAP social media channels and driving more traffic to our career site. It can be shared and played generically by anyone or used in discrete format for specific events — career fairs, coding events, the sky's the limit.
We also wanted to try something a little different, experiment, and innovate, by linking the game to assessments. Behind the fun and addictive gameplay, this is a serious and important tool that will help identify "latent talent": people with the potential to perform a role at SAP, even if they have no prior experience of performing a similar role or knowledge of SAP. The game produces a rich data source — game play data — which combined with the Facebook profile data and output from the assessments at the time of application will create the richest and most accurate source of profile data that SAP have ever had.
You can play the game here.
Conclusion
Contrary to traditionalist concerns, the assessments we have developed enhance candidate experience, because they provide that real-time feedback candidates so desire. Candidates receive that two- to three-page assessment report immediately upon completion, to read and digest. Isn't that a better candidate experience than a bounce-back email, or being ignored because of subjective decisions made about place of education or place or prior employment, all because of misconceptions about what type of background is required to do the job well? At SAP, we certainly think so.