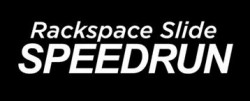 You want to talk office culture? Having fun at work?
Go ahead and try to sell that system admin you're courting with the foosball game in the lunchroom, and free pizza Fridays. Really?
Over yonder there in San Antonio, where salsa is almost religion and Rackspace is headquartered, they take their fun seriously. (Add that oxymoron to your list.) The Rackspace folks, who inhabit an abandoned shopping mall so big it's huge (this is Texas after all), have posted a Google Street View of their workplace. It's almost 28 acres, making it bigger than some neighborhoods.
Still selling that foosball thing? Well, grit your teeth, because one of the coolest features of what might be the world's coolest workplace (not counting the ISS) is the slide between the first and second stories of the place. Which, of course, all but demands slide contests. Which, of course, Rackspace happily accommodated. Strike that. Sub in "encouraged" and made part of the whole branding thing.
Our ERE congratulations go to Scott Gilbert who set the video slide record of 3.45 seconds riding 'ol waxie to victory.
Stress Brawl
Who doesn't know that layoffs are stressful? You do what you can to reduce the impact. Maybe hand out a severance check at the same time you deliver the news. Maybe offer rehiring opportunities, or outplacement, or something.
But you can skip the stress balls. They didn't help Darren Baldwin who punched out his boss when he was laid off a couple weeks ago. He worked in a warehouse packing — wait for it — stress balls.