I'm not a big fan of video when it comes to resumes, but for employers, I think it's a must-have. What companies struggle with, however, is exactly how video should be done. Many opt for professionals armed with with costly video equipment, editors, storyboards, and scripts, producing content that showcases the assets of the company and highlighting its employment brand.
Turns out, that was all wrong. So says a recent study done by Lighthouse Research and Advisory entitled "The Role of Video in the Candidate Experience," which said big spending on an employment branding video is a failed strategy.
"How much did your company spend on that 'company overview' branding video that you have on your careers page?," Ben Eubanks, principal analyst as Lighthouse Research and Advisory, asks in a post. "$5,000? $25,000? Whatever the investment, it might come as a bit of a shock to find out that candidates, especially active ones, don't really see that as a source of valuable information during the job search process."
Sounds like a comeback for the selfie stick. Instead of high-end productions, Lighthouse says job seekers want raw video footage of hiring managers and frontline employees. In fact, the survey says candidates want to see videos of hiring managers 2.5 times more often than company overviews and 10 times more often than seeing an HR/recruiter message. Other findings include the following:
A hiring manager welcome video would make a candidate 46 percent more likely to consider the job and 30 percent more likely to respond to a recruiter or apply.
55 percent of active job seekers said employee-generated video would be more credible/trustworthy than company-produced video.
Employers believe that hiring managers are the most persuasive source of information for candidates, but only 3 percent of employers are using this kind of content to reach job seekers.
What might such a video look like?
For a good example, checkout a recent video posted by Kris Rzepkowski, promoting a content marketing position at his company. You'll notice an absence of slick production and editing, opting instead for an organic, homemade feel.
No script. No makeup. No problem. And that's just how job seekers like it.
According to the Lighthouse study, candidates overwhelmingly want to see and hear from the hiring manager in the application process. The theme that "people want to work for people, not companies" is especially apparent in the report. Job seekers don't want to see a pricey company overview, and they don't want to hear from HR.
Why? The reason comes down to trust, says Lighthouse. Just like people would rather see pictures of food on Yelp, posted by actual customers, instead of photos professionally added by the restaurant itself, so it is with employment. Millennials, in particular, want to see content that looks and feels organic as opposed to ones that look and feel cold and corporate.
"One of the things I was careful of doing in this study was trying to specifically quantify the value and credibility of information coming from hiring managers versus the company," said Eubanks. "As we can see in this example, when we asked candidates about what source provides the most credible, trustworthy information, it's clear that employee video is preferred."
Interestingly, the employer feedback mirrored job-seeker feedback with regard to what each thought candidates most wanted to see. Lighthouse asked employers to rank the most persuasive sources of information for candidates too, and hiring managers came in first, followed by employee testimonials.
However, when we asked how many employers were using these types of videos in their recruitment marketing, only 3 percent were using hiring manager videos, and only 13 percent were using employee testimonials.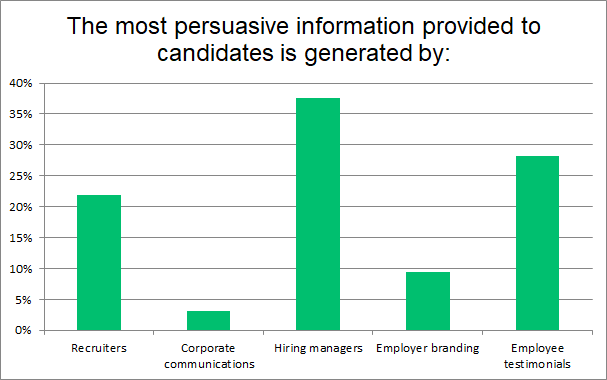 "This begs the question,"said Eubanks. "If candidates crave this information and employers consider it to be the most valuable, why aren't companies offering these kinds of elements on their career page, social channels, and other platforms?" My guess is many employers put such tasks in the hands of their marketing department or a recruitment advertising agency, who are going to opt for the most expensive, professional-looking option every time. I also think getting in front of a camera is the last thing many hiring managers want to do, so the option with less friction is chosen.
"Employers need to start exploring how to embed more hiring manager content into their candidate experience," said Eubanks. "They know it works. Candidates know it works. There's no excuse and it could lead to a radical improvement in candidate perception and trust.
"Go for something less 'pretty' and more 'raw' in terms of video. Trying to produce and script a video diminishes the value in the eyes of candidates and it takes longer, costs more, and is generally more of a hassle for the hiring managers and other employees taking part."
The survey included 301 job seekers and 224 employers. The company says that "all research insights and opinions provided by Lighthouse Research & Advisory are unbiased and are not influenced by sponsorship (in this case, by SparcStart)."