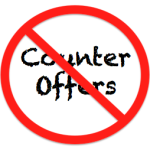 One of the best ways to insure that you can disarm the potential damaging effects of a placed candidate accepting a counteroffer is to form an alliance with your client. This alliance helps deal with the three major emotions experienced by most candidates before, during, and after their decision:
Fear of change.
Uncertainty about the future.
Doubt regarding their decision.
Recently, I discussed a counteroffer prevention strategy. As stated in that article,  together with your candidate, you must develop a clear picture of their true reasons for changing positions. These motivations must be identified at the initiation of the relationship and reviewed, updated, and reinforced at every step of the process. The candidate's motives for change should also be reviewed on an in-depth basis with your client. Once this has been accomplished, you and your client should establish an individualized approach to take with each candidate in order to focus on their motivations and further build their interest in the opportunity.
Dealing with Emotions
Notwithstanding the focus on motives, you and your client must also deal with the candidate's emotions. At no point in the process are these emotions greater than at the point of an offer. It is at this critical time that the counteroffer alliance between you and your client must be properly executed.
Once the interviews are completed and the client has made a decision, you must be positioned to provide guidance on the development and presentation of an offer that will be acceptable to the candidate and yet fair to your client. This is the point at which your client can all but lock in the candidate and lock out the possibility of a counteroffer.
Signing the Offer Letter
After pre-closing your candidate on the offer, work with the hiring authority in constructing an offer letter. Then, on the final interview between the candidate and your hiring authority, the offer letter is presented and the candidate signs. This step in the process is crucial for three primary reasons:
First, it creates positive emotion in the candidate; often relief they have finally made a decision.
Second, because they have actually affixed their signature to a written document, it creates a higher sense of obligation on their part to follow-through on their commitment and move forward with their new position.
Third, it produces a psychological break from their present employer. This is important because it keeps the candidate focused on the future and the opportunities it holds rather than the past and the fear of change.
From this point, your counteroffer alliance should design and implement a transition strategy for the candidate. This strategy could include the presentation to the candidate of his or her new business cards as another visual reminder of their commitment. Business cards also help create a sense of inclusiveness with their new company. Further reinforcement can be achieved through follow-up e-mails, telephone calls, and correspondence from key managers and peers.
Transition Mentor
Having the newly hired candidate complete their employment forms in advance, inviting them to attend department meetings or company functions, and assigning a transition mentor (usually a key peer) will also help reinforce the commitment to their new employer.
In the ongoing "war for talent", a counteroffer alliance between you and your client can make the difference between victory and defeat. After expending the resources necessary to identify, attract, evaluate, interest, and gain offer acceptance, having a counteroffer alliance in place just makes good business sense for everyone concerned. It helps eliminate the element of risk that is present any time a counteroffer situation is imminent.
As always, if you have questions or comments about this article or wish to receive my input on any other topic related to this business, just let me know. Your calls and e-mails are most welcome.