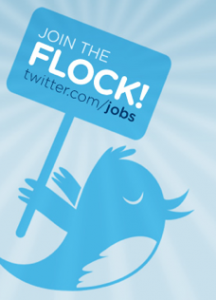 Last week, SourceCon ran the first part of an article series on Twitter's Hiring Strategies, outlining some of the significant new hires Twitter has made this year. I also showed you the video that Twitter put out to help its recruiting efforts. I was able to grab about 30 minutes with Twitter's director of recruiting, Oliver Ryan, and talk to him about some of the recruiting and hiring practices that Twitter has in place for its internal efforts. While Twitter has talked with several tech media publishers about their recruiting video, this is the first time it has talked about their recruiting practices directly with the HR, recruiting, and sourcing community.
Oliver Ryan, Director of Recruiting (or "People Wrangler" as it states in his LinkedIn profile), joined Twitter about a year ago. When he arrived, there were no full-time recruiting resources at Twitter, and total headcount was only around 40 employees. Since then, Ryan was offered a full-time position and the company has grown to over 250 employees, with the recruiting team now at eleven people.
How did this happen? Ryan says that lots of startups believe it is best to outsource recruiting instead of investing in building in-house teams. But not Twitter. The company has really focused on investing in the recruiting infrastructure, and as a result, there is a culture of recruiting built into the entire organization. The whole company views recruiting as a high priority — "It's one of the most important things that we're doing," says Ryan. For example, Twitter loves people who contribute to open source projects. The Twitter engineers may run across other engineers contributing to open source projects and be impressed with their work. They'll either reach out themselves or pass the information to the recruiting team, who then reach out. Essentially, everyone in the company "recruits."
Ryan says "there are no 'secrets' to what we do." He is quite proud of the recruiting team that it has assembled and sys that they focus and specialize within their roles. Many of the recruiters have worked as solo recruiters for various start-ups and are quite capable of doing the full cycle recruiting thing. But he believes that by allowing his team to specialize, it will be better equipped to find the "right people" for the company.
So how does Twitter go about doing this? Ryan says that it does not target specific companies or competitors from which to hire people away. It also does not conform its hiring to individuals who have certain types of degrees from a specific list of colleges and universities. Instead, the recruiters focus on specific talent and skillsets. Ryan says that it takes a great interest in discovering what kinds of hobbies and outside-of-work interests potential candidates have. Basically, he says, "We are looking for passion."
Ryan also shared that the most important part of Twitter's recruiting process is ensuring a positive candidate experience. From the first contact to the final interview, the recruiting team as well as the rest of the employees, strive to make the experience a pleasant one for candidates. This way, even those who are not hired go away feeling good about the opportunity.
Regarding the video (which was inspired by a scene from Wes Anderson's Rushmore), Ryan says that someone internally who focuses on company culture had the idea to create it. They saw other recruiting videos and wanted to put something together that reflected Twitter's culture, but that was also tongue-in-cheek. He joked that they did not want the nerf guns and the ironic high-fives to appear in their video (i.e. not too much cheese), but they did want to show the real people behind the product and that the company has a fun, laid-back, yet productive atmosphere.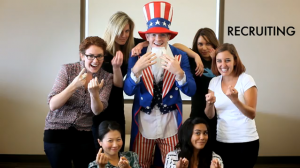 Fun fact: Ryan appears in the video dressed as Uncle Sam with some of the recruiting team (at 0:51). The ironic part of this is that he is originally from the UK. (when we spoke, I guessed wrongly that he was Canadian!)
The question that I'm sure many of you have at this point is this: How does Twitter use its own product for recruiting purposes? Twitter obviously was not specifically designed to be used as a recruiting tool (shocking, I know!) but there are many applications of it for recruiting purposes. Ryan says that regarding anyone who applies at Twitter, they investigate how they personally use Twitter. Are they purposeful or scattered? Helpful or spammy? Bot-like or interactive and personal? They have also set up an 'official' recruiting Twitter account called @jointheflock. That account currently has more than 18,000 followers and follows a small handful of accounts which appear to be its recruiters (in addition to @biz and a couple of company accounts). Within this list is a relatively new account for them, @TwitterU, which was created specifically for its university recruiting efforts. (sidenote: looks like it launched on August 17th and already has over 2,500 followers!) I have it on good authority (OK, Ryan shared with me!) that it is really hitting the pavement hard starting this week with its university recruiting efforts.
Looking deeper into the three "corporate" accounts for their recruiting efforts — @jointheflock, @TwitterU, and @TwitterEng — you'll notice that the company mixes feeds with real human interaction. It appears to use an automatic feed delivery tool called dlvr.it (which, incidentally, we also use for some of our feeds) but peppered in with the news feeds are human tweets from company employees. Additionally, the accounts follow relevant people who work at Twitter and frequently re-tweet them. In turn, the employees follow these accounts and re-tweet job opportunities to their own followings. They truly share a fishbowl glimpse of what it's like to work at Twitter.
My biggest takeaways from my conversation with Ryan:
Twitter is very much focused on giving its audience, whether it be customers, investors, or potential employees, a transparent view into the company and how it functions.
Everyone within the company participates to some degree in the recruiting practices, because they know bringing in good talent is beneficial to them individually as much as it is to the company as a whole.
Twitter practices what it preaches. It uses its own product effectively to recruit, but focuses on what's most important: the people and the relationships.