A deal announced Monday  between Twitter and LinkedIn makes it a snap now for users of both services to cross post status messages.
You can choose to have some or all your tweets posted to your LinkedIn groups and vice versa. This is a boon for recruiters who now can more easily reach their entire network with news of jobs and opportunities, while job seekers can use it to enhance their personal brand.
"More and more, people are finding that the persona they create for themselves on the Web is part of their resume in many ways," said Twitter co-founder Biz Stone, in a video he made with LinkedIn CEO Reid Hoffman.
Stone likened the deal to "bringing the peanut butter and the chocolate together to make the perfect combination," which explains our use of the otherwise inscrutable graphic from the LinkedIn site.
The two services, of course, serve different purposes and different constituencies. Twitter users tend to be younger and tweet about social activities. LinkedIn is very specifically focused on business networking.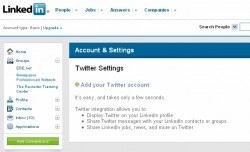 The integration takes these differences into account, giving Tweepl a choice where there tweets go. Use either #li or #in to post your tweet to your LinkedIn groups. LinkedIn messages will generally go to all your Twitter followers, unless you choose to post only to LinkedIn.
I tried to set this up several times last night and this morning, but got error messages. Some of them were the usual Twitter overloaded kind, but the others were likely the result of the rollout. According to the original announcement, the integration will take a few days to complete, accounting for the lack of a setting on Twitter itself for the LinkedIn connection.
You can also set up an account on Ping.fm. This is a free service that lets you organize all your social media sites so you can post to some or all simultaneously. In addition to LinkedIn and Twitter, the Ping network includes Facebook, Diigo, Yammer, Plaxo, MySpace, and 39 other sites.
The LinkedIn/Twitter integration comes on the heels of announcements over the last couple of weeks that Twitter messages will now be indexed by Bing and Google. Search results now include tweets.