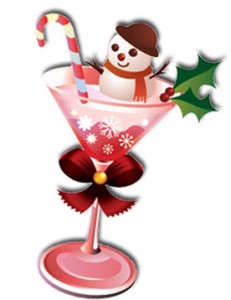 This is my favorite time of year. The holiday season with snowbells jingling, family gatherings, and festive parties. And, the New Year with its promise of a fresh start and new things to come.
It's a time to be thankful and to celebrate:
Celebrating: Business is on the upswing. We're leaner. We're smarter. We're growing again.
Appreciating: We made it through a very tough economy. We've earned it.
Reflecting: Reviewing last year's goals and checking off accomplishments.
Anticipating: Writing goals and planning for the new year.
Each year between Christmas and New Years, I plan for the next year. I set aside time to write my personal and business goals. Specifically, what do I want to accomplish next year? I get specific and quantify my goals. For example, my firm will bill X dollars and this is how we'll do it, month by month, quarter by quarter. Personally, I will earn X. I write what I will acquire. What I will learn. Where I will go. I draw pictures to crystallize all in my mind.
This is a very exciting time for our industry. Change equals opportunity. The economy is revving up. Companies are hiring again. Demand for recruitment services is increasing. Fees will rise. Billings will be bigger. With fewer recruiters now, the cream of the crop – you who are reading this – will take a larger slice of the new business pie.
In the years ahead, we will also need to navigate powerful trends:
Demographics. Five million baby boomers will retire in the next few years. This will lead to the rise of Gen X, Gen Y and Millennials. We must understand the different wants and needs of each generation. How your father feels about work is not the same as your kids.
Social media. New online technologies are dramatically changing the landscape of recruiting. LinkedIn, Twitter, Facebook, YouTube and other online tools are enabling companies to source and engage candidates with ease. This is not a fad. Recruiters must adapt to this new reality quickly. What value can we bring to our clients, if candidates can be easily sourced online?
New industries. More than ever, recruiters need to go where the job demand is. What are the industries and jobs of the future? Healthcare/Medical, Engineering/Scientific, Environmental/Energy to name a few. Be a specialist and dominate your niche.
Changing workplace. Virtual work teams. Mobility. People with common values are banding together for a common purpose. Upcoming generations want to work independently, innovate and realize their contributions. Firms that create employee-centric cultures will win.
Next year I will focus on three things:
1) Learning 2) Staying on top of the trends and 3) Spending my time on money producing activities. How will I do this? Reading daily. Engaging in social media. Forming new alliances and partnerships. Developing new clients. Traveling and training at industry events.
Wishing you a prosperous new year!