A while back, I read a post on ERE.net on writing a great job description. ERE's site is geared toward corporate recruiters, many of whom are young and inexperienced, with little or no agency experience. The article made me think about the overall problem with job descriptions and how they're typically handled in both the agency and corporate world.
In the agency world, the client provides the job description. But who actually writes it? Is it the hiring manager, HR, internal recruiter, or some combination of these three? Whose thoughts were used in writing the document? Is a guideline being followed? How do they even know that what they're looking for is what they need to be looking for, or if the candidate they're looking to hire will even have interest in working for them?
In the end, are agency recruiters really just order fillers or takers?
Once Upon a Time…
I had a "catch up" call with a sales manager I hadn't spoken to in ages. He told me he joined a startup as their VP of sales and happened to be looking for a pre-sales engineer, and would appreciate it if I'd help him out. I explained that I rarely ever did contingent work unless it was a very special situation. After a fairly lengthy conversation I agreed to help him out with this search as a one shot deal because I wanted to get my claws into this exciting startup. I explained that since he wasn't retaining me, I could only give him a small amount of time. He agreed with that. He proceeded to send me the following job description. I'm not going to address what's wrong with the job description, but will instead, discuss the issues with a job search being done this way, later in this article.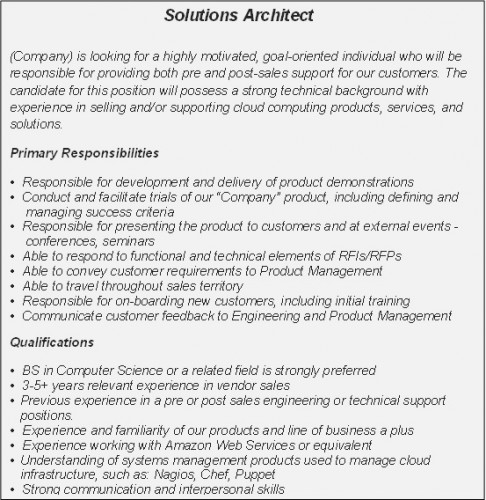 Then, I asked him a number of other questions that would help me to successfully recruit for this position. I sourced a number of candidates over a week or two and found two candidates that matched the terrible job description he wrote. He wanted to hire the first candidate I sent him, but that fell through as the candidate was too far along with another company. I backed off the search because I didn't have time to do a contingent project for him and wasn't keen on working for free.
He eventually hired a candidate he found on his own who was an assistant to an executive using Amazon Web Services because the candidate knew AWS. The candidate had none of the KSAs (knowledge, skills, abilities) they were looking for, but thought they'd give him a chance. This was NOT a good hire in my opinion.
The bottom line: he wanted to hire someone and wasn't seeing any good candidates, with the exception of the first candidate I'd sent him.
Meanwhile, he suggested the CTO/founder speak to me about his technical hires because he was impressed with the candidates I had uncovered. I explained the same thing to him about retainers, and agreed to give him some time on a contingent basis too. (This was me getting sucked in.)
I produced two exceptional candidates (I had found others that weren't available); one who had been at Google for seven years. The founder was thoroughly impressed with the candidates I produced for him and promptly referred me to some other CEOs and founders he knew. He subsequently lost both candidates that I found for him.
The Google candidate got relocated to the mothership. The other candidate, who had been very interested in this company, took his third place job because my client totally fouled up the hiring process and I wasn't able to rescue it.
I Lost the Fee
After he lost the second candidate I said, "Now do you understand why I don't do contingent work? I'm out $30k through no fault of mine." He was very apologetic, but that didn't ease the pain of my loss. Had he retained me I would have produced more candidates since I would have been working for him full time, and I would have overseen the interview process. I had done everything in my power to save this deal. I explained that I had given him very little time, and to imagine what a difference it would make if he retained me. He agreed that retained search would make sense when he had critical hires in the future and told me he wished he'd found me months earlier when he'd had several critical hires.
With the exception of the referrals, this entire process reminded me of why I no longer waste my time with contingent work. I was angry with myself for even spending time on these two searches.
Fast Forward Nine Months
I received the following email from this VP of sales several months later:
Round two.
I pulled the trigger on the last one and need a solid qualified SE replacement.
We will pay for quality. I'm not going to be cheap on this one.  
Let me know.
Below this email was the same job description he'd sent me nine months earlier. I called my client and explained that if he wanted me to work on the job he'd have to retain me. I sent him an overview of what my retained process looks like, and we scheduled a call the following week.
He said, "My HR girl found me a candidate (By the way, the HR girl graduated college in 2011, has 2 years of HR experience, no recruiting experience, and is 24 years old. OY!!) and I've got a few resumes here to look at."
He explained he didn't want to spend the money to retain me, which I found curious given his email saying he wasn't going to be cheap on this one. I told him not to be "penny wise and pound foolish," and he said he wasn't going to let this continue for more than a few weeks. I never heard back from him on the matter, so he either found a candidate to hire or found some contingent recruiter to work for him.
In a Related Issue
I found a particularly appropriate question for this article in the Ask Barb section. She received the following question:
Dear Barb:
I own a contingency direct placement firm and specialize in IT. It's more difficult than ever to surface top talent. Unfortunately, even when we do surface great candidates, our clients screen out most of the candidates we present.
Often the specs they give us are impossible to fill, so we surface the best talent available, but they want the "perfect" person who doesn't exist in this market. Any ideas on how we can put pressure on our clients?
Stephen M.
San Francisco, CA
Barb suggested Stephen make his expectations clear to the client and send the client a list of what he expects from them. Barb advised discussing the challenges of the job order when the recruiter takes the order, and that the recruiter should use facts rather than opinions. Though Barb's response was appropriate, I'm not convinced this will be an effective solution for Stephen, or other recruiters and it made me think about what was, and is, missing in both situations.
Is There a Solution?
Both contingent and retained recruiters receive job descriptions from their clients. The difference between these two is this: because contingent recruiters are not paid for their work or advice, the client is not typically apt to take their advice on a job description and alter it, especially if the requirements have come from above the hiring manager. This is analogous to a sales manager giving quotas out to his reps that are unrealistic. I've heard this from sales people more times over the years than I can possibly count. The manager and managers up the chain don't want to hear that the quota is unrealistic. The rep just needs to make it happen. I know there are situations where an alternate solution is possible, but they are not the norm.
Retained Value Begins With the Job Description
Being paid for the work they do, retained recruiters will go through some process with their clients to build a job description that is effective and accurate. For example, after our clients sign the search agreement we schedule a "kick off" meeting with all stakeholders for the position. This meeting runs approximately two hours. It's this meeting where we develop and discover what type of candidate we're after. Then we write the job description, and build a competency model used for interviewing. We begin sourcing once the client signs off on both documents. It is the commitment to getting a search done successfully that has clients choosing this method.
I spent 16 years doing primarily contingent work before changing my search model and, even though I had solid relationships with my clients, the amount of influence I had concerning their job descriptions was minimal. When people don't have to pay for something, they don't value it like they do when they invest upfront. As long as companies don't have to pay contingent recruiters to work, and contingent recruiters continue working within this model, status quo will prevail. A contingent recruiter can work on a job requisition, find the perfect candidate, get them to the offer stage, and a company can decide they don't want to hire anyone. Everyone loses except the company, yet approximately 90% of recruiters do contingent work.
As I've said, and will continue to say, a retained model works. Do you really want to be the tire that's kicked? If we all committed to changing our models over to a retained one, here's what I predict would happen: the cream would rise to the top and all the others would slowly go out of business… period.