Between early 2020 and today, the offering of signing bonuses has tripled. This is especially significant because while numerous pandemic trends have reversed in light of the pandemic easing, this is not the case with signing bonuses, according to recent findings by Indeed.
In June, just shy of 5% of U.S. job postings cited signing bonuses. This is down from last September's high of 5.6% of posts, but it is considerably higher than the pre-pandemic average of 1.8%.
As Indeed's Cory Stahle and Nick Bunker state about the research, "The recent decline suggests that while recruiting intensity may not be quite as high as it was at the peak of the market last year, it is still higher than might otherwise be expected given the overall cooling in the market."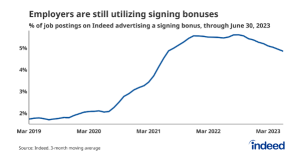 Additionally, while wage growth has continued, it is cooling — which suggests that employers are offering comp packages that are de-emphasizing salary and are instead relying on one-time payments to attract job seekers. Put otherwise, while both wage growth and signing bonuses are declining, the latter is falling at a far slower clip.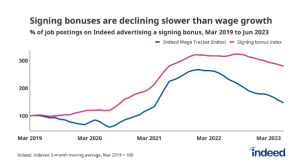 Digging into the data still further, it appears as if healthcare jobs are a major driver of the continued popularity of signing bonuses. For example, 2.4% of job posts for medical technicians included signing bonuses pre-pandemic. That number has since exploded to 12.3%. Physicians, meanwhile, saw a rise from 4.5% to 12.9%. Likewise, jobs nurses also saw an increase in signing bonuses from pre-pandemic days to today, from 6% to 16.4% of posts.
It's also no coincidence that for those and many other roles in the medical field, competition for workers is extremely intense.