A number of the big-name innovators in talent acquisition — the Sodexos, the PepsiCos, and others — are all trying to find a smooth way to get candidates using smart phones excited about a job at their companies, to apply for jobs without having to navigate a corporate careers site on the phone, all the while staying compliant with government rules, and not wreaking too much havoc on the employer's applicant tracking system.
Matt Jeffery, who wrote that article on ERE that went quite viral, says his employer, Autodesk, is among the leaders in the mobile race. More on Jeffery and what his company is unveiling in a minute; first a look at how we got to this point.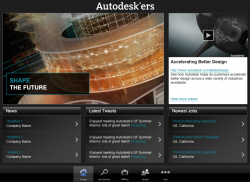 What the amorphous term "mobile recruiting" has meant to many people so far is encouraging candidates to send a text message companies about jobs, like UPS has done, or the tinkering around with a careers website to make it show up better on smart phones, like companies such as Hyatt have done. Randy Goldberg and the Hyatt team are looking into having candidates submit some quick information on themselves using a cell phone, so they wouldn't have to type in a whole resume or application. But right now, Goldberg believes that having candidates actually apply for a job using their cell phone would be quite a hassle for a candidate.
Most everyone tends to agree — including many folks you may have heard of who have an interest in mobile recruiting, people like Geoff Peterson, Craig Fisher, Gordon Lokenberg, and Chris Russell.
Lokenberg has helped Deloitte-Netherlands with its mobile recruiting. "There are a lot of apps out there that are mostly shortcuts to an Internet career site of the company," he says. "That makes it hard to navigate."
"The technology's not 100% there," says Peterson. "You'd have to have your resume already loaded up online and have a link to share, or something else like that. In theory (applying straight from a mobile application) can be done for sure, but do I see a lot of being done now? No, I don't think so."
"I've seen promise from a few different companies," says Fisher. "But I've never seen a working product yet."
Many of the applications out there are for certain groupings of people, like Lokenberg's application created in 2009, which works only for companies that are a part of his database, and is called "Shake Your Job." Or, Monster's mobile application, for candidates to apply with the Monster accounts. LinkedIn says it does not yet have an "apply now with LinkedIn" mobile-phone application; Russell believes that in general, as LinkedIn makes its moves, it "should speed up the innovation around mobile applying."
Anyhow, multiple recruiting departments I've talked to over the last few months are working on this, with help from various technology vendors. Among those many vendors is a small husband-wife Ohio consultancy working on an "apply now" mobile application, whose work is so private that it doesn't want its name to be mentioned.
Pepsi, one of the innovators in the mobile arena, was aggressively working on an apply-with-a-cell-phone project, the company told me in the spring, though a spokeswoman tells me it's not there yet. A little-known UK firm called AllTheTopBananas is its vendor of choice, a company that raves about the success of Pepsi's mobile efforts to date. AllTheTopBananas has only about 13 employees, mostly developers. It started off in April 2007 as a job aggregator, sort of like a British version of Indeed or SimplyHired in the U.S.
AllTheTopBananas notes that "from the first 60 days from the apps going live, a soft launch only in the U.S., with the apps only being featured in only two places, on their careers website and in the app stores, PepsiCo had received over 3,500 downloads. Out of the 3,500 downloads, 85% of the candidates had job alerts set up on their device for targeted jobs they are interested in. When tracking the candidates who came from their apps, they have hired two new employees and have 10 in the recruitment process. Again, this was within the first 60 days of launch."
Sodexo, not yet naming the vendor it's working with, expects to launch its mobile application in about a month, allowing candidates to search and apply for jobs on their phones.
For Sodexo, among the challenges has been the three types of candidates in its current system (internal candidates, external candidates, and Sodexo Alumni) with three different experiences. "This has been a complicated process," says Sodexo's Arie Ball, "but in the end we expect candidates, including our internals with simple sign-on requirements, to be able to apply from their mobile device and answer screening questions. I believe we will have the only app with access from three unique portals to offer different candidate experiences."
And that brings us to Jeffery, who started talking to the same company that's working with Pepsi, AllTheTopBananas, when Jeffery was working at EA. Jeffery took a job at Autodesk in March and AllTheTopBananas began work on a mobile application for Autodesk, a project that took about three months. Jefferies says Autodesk's application will be a "game-changer" and may be available as soon as this week on Android-system phones.
Jeffery believes the Autodesk application will be the first where people can apply directly from the phone without a resume. But, he says, that's the least of it. Far more importantly, Jeffery says, is that the application is a "one-stop shop" to Autodesk tweets, Autodesk YouTube videos streamed through the application, Facebook wall comments, a gallery of work by Autodesk employees on the company's software, and more. He wants to engage people, excite people, make them inspired about Autodesk, and believes the application does just that, more than just being practical or functional.
But back to the practical: candidates visiting Autodesk's careers pages on a mobile phone will be asked if they want to download the cell phone application. They can search (see scrollable file at the bottom of this post) for Autodesk jobs with their mobile phones, and can view them on a map. Then, after downloading, the "push notifications" feature saves the previous search created by the jobseeker to the phone, so when Autodesk has a job that matches the saved search, the jobseeker is sent a text message letting them know.
So if they search for, say, San Francisco engineer jobs, even if they don't type any information in about themselves, Autodesk will push future job openings to them through the application on their phone. If they're interested in applying, Autodesk will ask for candidates to enter only basic information, such as name, current position, and contact details from their phones. On its end, Autodesk will need to then go in and put that information into its applicant tracking system. And, it'll contact that candidate later to ask the candidate, perhaps now from their desktop or laptop, to enter some more complete information in the Taleo system, beyond what had been captured during the brief mobile phone visit.
This is all phase I, Jeffery says. Phase II will include more content, more "stickiness" and "gamification." Autodesk's application doesn't include the segmentation I mentioned earlier that Sodexo is working on (internal employees, external employees, and alumni).
AllTheTopBananas, meanwhile, is working or has worked on mobile applications for other major big names including Nestle, RIM (Blackberry Careers), Match.com, and Oracle. Three major multinationals, one based in the UK and two in the U.S., are considering signing on with the mobile-app maker. Each company wants something different built; not surprisingly, AllTheTopBananas' Commercial Director Cristian Bradshaw tells me the firm is "non-stop busy."